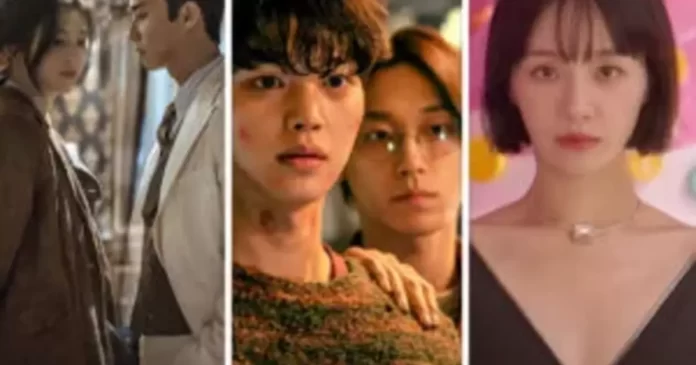 Tudum 2023: The most exciting Netflix Global Fan Event recently took place on Saturday at São Paulo, Brazil. The event became the platform where several announcements were made.
The Netflix was quick to announce the upcoming Korean slate and also the return of Sweet Home Season 2 along with Believer 2, and D.P. Season 2.
Tudum 2023: Netflix Unleashes First Look of Han So Hee & Park Seo Joon Starrer Sweet Home 2, Gyeongsang Creature, Doona, & D.P. season 2
The same video also got a chance for the audience to get a peak at the upcoming drama and movies like Gyeongseong Creature, Ballerina, Daily Dose of Sunshine, Doona!, Song of the Bandits, A Time Called You, Mask Girl, and Celebrity.
KOREAN DRAMAS
CELEBRITY 
An upcoming series starring Park Gyu Young, Kang Min Hyuk, Lee Chung Ah, and Lee Dong Gun depicts the life of a celebrity. Helmed by Kim Cheol Kyu, it is written by Kim Yi Young.

D.P. [AUGUST 27]
Starring Jung Hae In, Koo Kyo Hwan, the series is about soldiers who may look like any other civilian, but the Deserter Pursuit unit is anything but. When duty calls and lives are put on the line, it's their mission to track down runaway soldiers and bring them back safe and sound.

MASK GIRL [2023]
Written and directed by Kim Yong Hoon, the series stars Kim Hyun Jung, Ahn Jae Hong, and Yeom Hye Ran. It is about an office worker who is insecure about her looks and decides to become a masked personality on the internet until a series of events ambushes her life.

A TIME CALLED YOU [2023]
Starring Ahn Hyo Seop, Jeon Yeo Been, and Kang Hoon, the remake is directed by Kim Jin Won and written by Choi Hyo Bi. The remake of Taiwanese drama Some Day or One Day which revolves around a 27-year-old woman named Huang Yu Xuan (Alice Ke) who longs for Wang Quan Sheng (Greg Han), the love of her life. One fateful night, Huang Yu Xuan is hit by a car, and when she regains consciousness, she sees a man she believes to be Wang Quan Sheng sitting by her hospital bedside. However, she realizes she is now a high school student named Chen Yan Ru in the year 1998 and no longer a 27-year-old woman, and the man by her bedside is not her boyfriend but actually a schoolmate named Li Zi Wei.

SONG OF THE BANDITS [2023]
Starring Kim Nam Gil, Seolhyun, Yoo Jae Myung, Lee Hyun Wook, and Lee Ho Jung, the series is created by Han Jung Hoon and Hwang Jun Hyuk.

DOONA! [2023]
Starring Bae Suzy and Yang Se Jong, the series is about a college student who navigates life and school while living with a former K-pop sensation. It is created by Lee Jung Hyo and Jang Yu Ha.

DAILY DOSE OF SUNSHINE [2023]
Starring Park Bo Young, Yeon Woo Jin, Hang Dong Yoon, and Lee Jung Sun, the series is created by Lee JQ, Kim Nam Su, Lee Nam Kyu, Oh Bo Hyn, and Kim Da Hee. Park Bo Young will headline the series starring as Jung Da Eun who "transfers from internal medicine to neuropsychiatry. As a newbie, she is clumsy in many ways, but she treats patients with sincerity and matures valiantly." Yeon Woo Jin joins the cast in the role of Dong Go Yoon, who is a proctologist "with a quirky personality, and he finds himself smiling when looking at Da Eun's pure actions."

SWEET HOME 2 [2023]
Starring Song Kang, Lee Jin Uk, Lee Si Young, Lee Do Hyun, Kim Nam Hee, Go Min Si, Park Gyu Young, Go Youn Jung, Kim Gap Soo, and Kang Sang Ho, the series is created by Lee Eung Bok, Hong So Ri, Jang Young Woo, King Hyong Min, Park So Hyeon and Park So Jeong. It is the sequel to a popular series about a loner high school student who moves into a new apartment when monsters start breaking out among humanity and the apartment residents are trapped inside the building.

GYEONGSEONG CREATURE [2023]
Created by Kang Eun Kyung and Chung Dong Yoon, the series stars Park Seo Joon, Han So Hee, Claudia Kim, Kim Hae Seok, Wi Ha Jun, and Cho Han Cheul. It is a thriller that takes place in the spring of 1945, when Gyeongseong, the old name for Seoul, was in its darkest era.

KOREAN MOVIES:
BALLERINA [2023]
Starring Jun Jong Seo, Kim Ji Hun, Park Yu Rum, the movie narrates the story of an ex-bodyguard who is grieving the loss of a best friend and sets out to fulfill her friend's last wish: which is a sweet revenge. It is written and directed by Lee Chung Hyun.

BELIEVER 2 [2023]
Helmed by Baik and written by Kim Hee Jin, the movie stars Cho Jin Woong, Cha Seung Won, Han Hyo Joo, Oh Seung Hon, Kim Dong Young and Lee Woo Young.

ALSO READ: Squid Game Season 2: Im Siwan, Kang Ha Neul, Park Sung Hoon and Yang Dong Guen join the cast; Lee Jung Jae, Lee Byung Hun, Wi Ha Jun and Gong Yoo to return

BOLLYWOOD NEWS