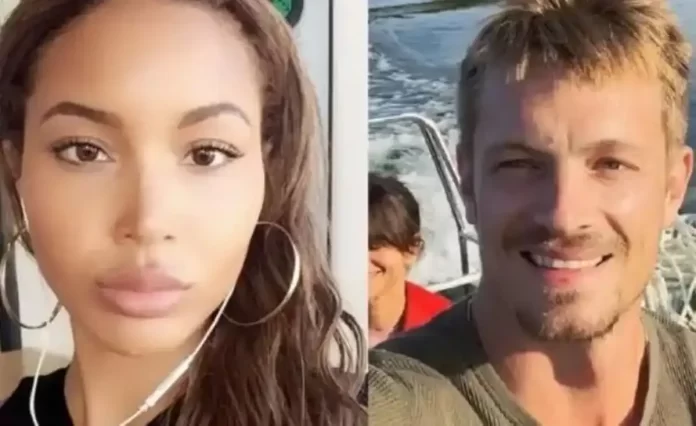 Just like Bollywood, a lot has been happening in Hollywood too. In a recent incident, Bella Davis who's a Jamaican-Swedish model alleged that The Suicide Squad star Joel Kinnaman has raped her. But Kinnaman has now been granted temporary restraining order against Davis.
It was revealed that she had earlier threatened Kinnaman to harm physically and also tried to extort money from him.
The issue surfaced in 2018 when Bella Davis whose real name is Gabriella Magnusson had accused Joel Kinnaman of raping her when she was drunk and in the intoxicated state.
But Kinnaman has a different story to tell. As per him, they both had a sweet relationship until 2018.
Following the events like money extortion and threatening him, Kinnaman decided to share a long note on his social media account.
He asserted that since Davis continues to make a number of threats to his life and property, she's ordered not to come closer to him.
Also, she has to stay at least 100 yards away from his house and any other property.
'The Suicide Squad' actor Joel Kinnaman files restraining order against Bella Davis, claims she's trying to 'extort' him #JoelKinnaman
https://t.co/qPGsOggauj

— DNA (@dna) August 7, 2021
He also stated that Davis has all plans in mind where she wanted to ruin his life s ell as public image with all the false and derogatory statements.
In the recent past, she has demanded so much from him including money, $400,000 apartment and his other properties.
The relief to Kinnaman came this Friday when he was granted the order. This is what he said in his statement, Davis "appears to be obsessed with (Kinnaman) and needs to be restrained from further harassing, threatening or contacting him."
As per reports, the Swedish-American star is being assisted by Adam Pines and Patricia Glaser of Glaser Weil.
As per some screenshots that Davis posted on Instagram, it looks like she's having a little conversation with "Joel Agent,". And this is what she further added to her post, "Why did Joel Kinnaman agent pay for my lawyer and my lawyer refused to go with the deal they wanted, they wanted me to be silent. But let the true come out," Davis added.
On the other hand, Kinnaman also released a statement where he stated that he along with his entire family has fallen under the threats of Davis. And so, they have become so serious and specific to this development to seek a restraining order.
The above conflict catch public eyes after Joel Kinnaman's upcoming film The Suicide Squad released on HBO Max and theatres.
Also Read: Jungle Cruise Starring Dwayne Johnson Makes $34 Million At Domestic Box Office
Find all the interesting and recent entertainment news across the world. Bollywoodnewsflash brings you the highlights of all the trending Hollywood News. Stay calm and updated for the latest news directly from the world of entertainment.