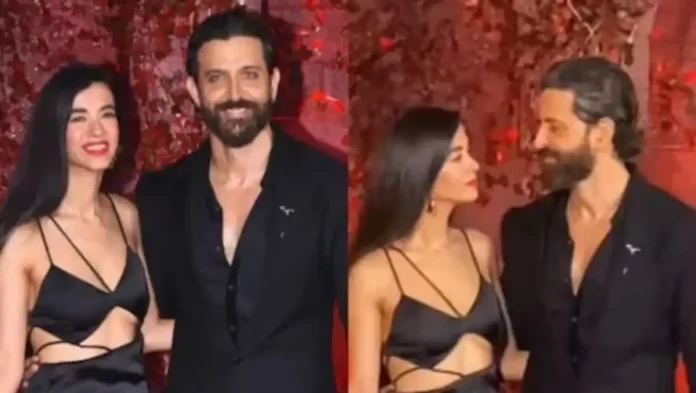 Hrithik Roshan was spotted with Saba Azad moving hand -in-hand at red carpet on the occasion of Karan Johar's 50th birthday bash.
Karan Johar celebrated his 50th birthday bash on Wednesday night. On this occasion Hrithik Roshan and Saba Azad were seen walking hand-in-hand together on the red carpet.
The couple spotted for the first time together after reports describing them romantically attached surfaced online.
Karan Johar's birthday party was held at YRF Studios in Mumbai on Wednesday night. The center of attraction in the party were Hrithik and Saba who walked hand-in-hand together and made it a crucial event to cover for the media.
While Hrithik looked dapper in a black colored suit, Saba looked astonishing in a black cut-out dress. As pictures started floating on social media, this is what one user wrote, "I love them.". Another user wrote, "They're so happy together, that's what a relationship entails, love and companionship."
Hrithik Roshan, Saba Azad Make Red Carpet Debut At Karan Johar's 50th Birthday Bash
It's quite some time since reports of Hrithik and Saba dating each other has been circulating in the media. And there was no surprise to see them together moving on the red carpet at the event.
Reports are also surfacing in the media stating that Hrithik is quite serious about Saba and the couple might tie the knot with her in the time to come. The reports were on the basis of a similar relationship between Farhan Akhtar and Shibani Dandekar who are now together in a relationship.
When Saba called Hrithik "my love" on Instagram, it looked clear about the likes of both towards each other. The actress had recently announced her upcoming project titled 'Minimum,' and Hrithik was the first one to send her best wishes.
It's going to be Rumana Molla who will direct Saba's upcoming project 'Minimum'. The drama will star Saba along with Namit Das and Geetanjali Kulkarni in their respective pivotal roles.
Take a look at what Saba wrote on social media, "My next with these gems – in @variety today!! 'Saba Azad, Namit Das, Geetanjali Kulkarni, Rumana Molla to Star in 'MINIMUM', Immigrant Indian Drama Feature Set In Belgium, jointly produced by Platoon One Films and Ellanar Films. Produced by Shiladitya Bora and Radhika Lavu, the film is slated to go on floors in June 2022. The international drama will be helmed by writer-actor Rumana Molla in her directorial debut.'" she wrote.
And soon Hrithik commented, "Hehe. You gonna kill this! Oui? Oui!" Replying to the actor, Saba wrote back, "hehe fingers crossed mon amour (My love)." Some other members of Hrithik's family sent their best wishes.
Find all the interesting and recent entertainment news across the world. Bollywoodnewsflash brings you the highlights of all the trending Hollywood News. Stay calm and updated for the latest news directly from the world of entertainment.
Follow Us: Facebook | Instagram | Twitter | Youtube