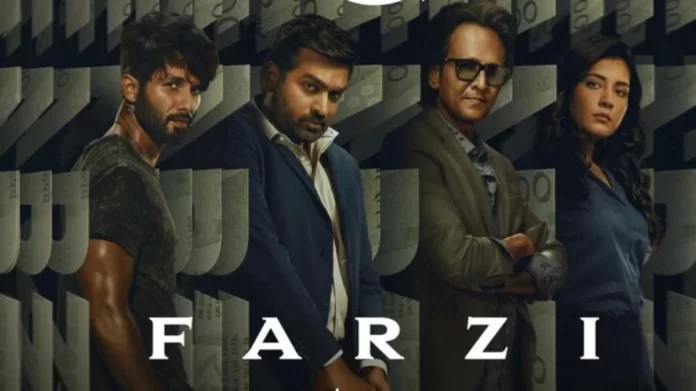 Farzi dropped on Amazon Prime Video on February 10. The web series stars Shahid Kapoor and Vijay Sethupathi in their lead roles. It also stars Kay Kay Menon.
As Farzi dropped today on Amazon Prime Video, there is a reason for you to watch it. The series looks awesome by some solid performances of Shahid Kapoor and others.
The web series not only has an intriguing plot but some amazing performances that you should never miss.
Farzi is a story that revolves around an artist and his art. But he looks quite disappointed after looking at the rich and poor.
One day Sunny (Shahid Kapoor) decides to take things into his own hands after he fails to keep the revolutionary journal of his nanu (Amol Palekar). The impact to his mind is such that he starts making counterfeit money along with his friend Firoz (Bhuvon Arora).
Both of them start creating fake currency notes that highly resemble to the original currency notes to such an extent that one can hardly find a difference.
Soon, the story gets involved Mansoor Dalal (Kay Kay Menon) and cop Michael (Vijay Sethupathi) in their game plan. Slowly and steadily, Sunny's art meets its connoisseur in Mansoor who also join their cartel.
When Sunny gets involved in this crime, he goes deep into it to such an extent that it becomes his need at all times. He's unable to think about the game of counterfeiting is either good or bad for him.
Farzi Review: An Intriguing Crime Drama of Shahid Kapoor & Vijay Sethupathi
The characters of DK and Raj are never shown black and white. Almost all the characters shown in this crime thriller series are black and white.
If Sunny is unable to satisfy his mind without involving into the counterfeit currency, Michael has no issues to use counterfeit currency so as to buy happiness for his family. Not only that, he also doesn't mind to even blackmail a minister to solve his purpose.
The makers have in fact given this web series an interesting plot with some extensive acting skills from Shahid Kapoor. The entire web series titled Farzi is loaded with some interesting dialogues. For example, exchange of clashes between Zakir Hussain and Vijay Sethupathi look hilarious.
To be precise, Farzi boasts of an amazing cast. It shows how the main lead Shahid Kapoor has knocked it out of the park this time in style. He looked more consistent with his acting in this series.
On the other hand Vijay Sethupathi also looks great in his looks as a cop. He's shown not to be loyal towards the government but to his own deeds. The great thing is that Vijay has himself spoken in this series and his voice is not dubbed in any way.
It looks fun to hear Vijay Sethupathi speaking the dialogues in Hindi. In short, his character looks more genuine and relatable.
Another class of act is worth mentioning here. It's none other than the acting of Kay Kay Menon who acted so smartly in this web series. The character of Bhuvan Arora also does a great job. He was featured earlier in films like Naam Shabana and The Test Case.
Next, Raashii Khanna also looks ravishing as a counterfeit currency expert. Although, her role takes a quick start but then phase out towards the second half.
Farzi has a total of 8 episodes of 55-60 minutes each. The best part about the series is that it manages well to keep viewers hooked till the end. But the makers could have saved the time in printing counterfeit currency notes.
As the makers of Farzi have kept the entire series open ended, spectators can expect Farzi Season 2 in the future.
Also Read: NTR30: Jr NTR to Join Hands With Koratala Siva for In His Next Opposite Saif Ali Khan, Chiyaan Vikram & Vijay Sethupathi
Find all the interesting and recent entertainment news across the world. Bollywoodnewsflash brings you the highlights of all the trending Hollywood News. Stay calm and updated for the latest news directly from the world of entertainment.
Follow Us: Facebook | Instagram | Twitter | Google News