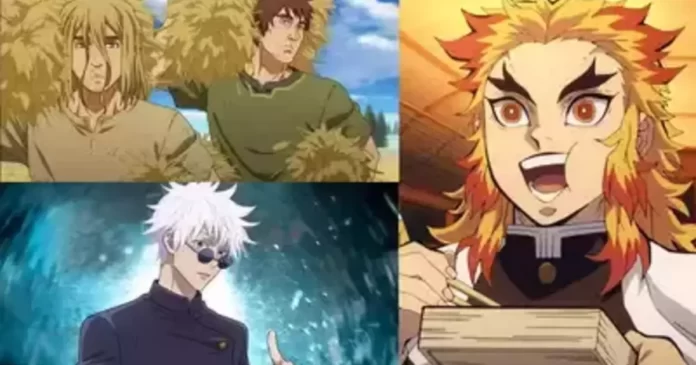 It's for the first time that a leading anime streaming platform will introduce Telugu dubs to help such films expand their offerings in local languages.
These anime series which have already become popular among the global audience will deed towards the Indian audience as well.
We have given 3 such popular anime series like Jujutsu Kaisen, and Demon Slayer: Kimetsu no Yaiba have been selected for their Telugu dub treatment.
These anime series in their Telugu dubbed versions will have a release date. For example, the release date of Demon Slayer: Kimetsu no Yaiba is October 2, Vinland Saga' season 2 will be released on October 5, and Jujutsu Kaisen will be released on October 13.
The new streaming platform will not restrict to these 3 anime series but will also release 20 new series including 'Frieren: Beyond Journey's End', along with its Tamil and Hindi dubs.
Looking at the global streaming of movies these days, the new streaming platform of anime series is now to stream selected anime series in its Telugu version as well. In short, the Indian audience will now be able to watch the Telugu dubbed version of these popular anime series.
The streamer will make quite significant changes to the Indian audience after it will expand its anime offerings to local Indian languages like Telugu, Tamil, and Hindi.
At present, it has been decided to stream 3 popular anime series 'Jujutsu Kaisen,', 'Vinland Saga,' and 'Demon Slayer: Kimetsu no Yaiba,' are all waiting to receive their Telugu dubbed treatment.
The move is definitely going to bring a fresh excitement to Indian anime followers. Check below the release date and timing of 3 popular dubbed versions of popular anime series.
3 Popular Anime Series In Telugu Dubb Version
'Demon Slayer: Kimetsu no Yaiba Mugen Train Arc'
As it looks like, it's a thriller anime series that revolves around the story of Tanjiro Kamado along with his demon-slaying journey.
The series is set on a high speed Mugen train, the series happens to be a a kind of heart pondering adventure that you must watch.
The Telugu dubbed version of the anime series will release on October 2, 2023 at 10:30 PM.
'Vinland Saga' season 2
Vinland Saga season 2 mainly sticks around the Norse saga. The anime series narrates you the story of Thorfinn, a warrior on a quest for vengeance in the brutal world of Viking conquests.
The anime series has a rich historical backdrop along with an intense set of characters and battles. All anime lovers can easily stream the series on October 5, 2023 from 9 AM onward.
'Jujutsu Kaisen'
'Jujutsu Kaisen' happens to be the most popular anime series in the realm of anime. It narrtes the tale of dark curses and supernatural battles.
The series simply follows the character of a high school student who's into the world of curses and sorcery after he witnesses a fateful encounter with a cursed object.
The release date of the anime series is October 13, 2023 at 8.30 AM
The fall of anime 2023 season, the online streaming platform will add another 20 popular anime series which will be dubbed in local Indian languages.
In the same way, popular anime titled 'Frieren: Beyond Journey's End' is also available in Tamil and Hindi dubs. This will obviously have so many options for the viewers.
Also Read: I'm In Love with the Villainess: Naruto's Hinata Hyuga Joins the Voice Cast
Find all the interesting and recent entertainment news across the world. Bollywoodnewsflash brings you the highlights of all the trending Hollywood News. Stay calm and updated for the latest news directly from the world of entertainment.
Follow Us: Facebook | Instagram | Twitter | Google News