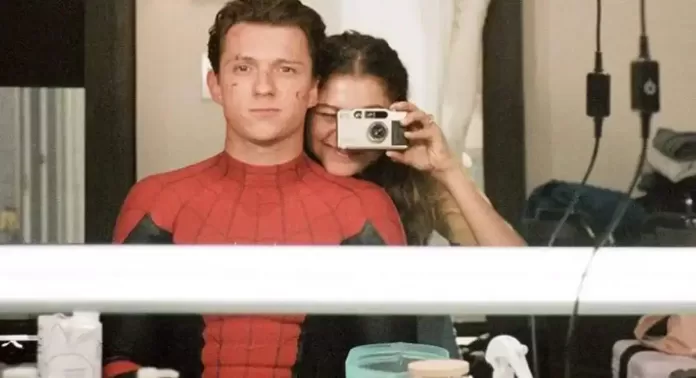 To mark the 25th birthday of his girlfriend Zendaya, Tom Holland has sent out a cute birthday message to her. He chose to share an adorable BTS picture directly from the sets of his upcoming Spider Man movie.
"My MJ," Tom began referencing her character 'Mary Jane' and added, "have the happiest of birthdays. Gimme a call when your up xxx."
tom holland and zendaya are soulmates. that is all. pic.twitter.com/p2QEiUdCgA

— imaan (@dayapeters) September 1, 2021
Tom went from calling Zendaya mate to birthday girl to MY MJ… :,) pic.twitter.com/xpAivX8CxX

— emilie ♡ zendaya's day (fan account) (@tomhollandsdaya) September 1, 2021
tom holland and zendaya are soulmates. that is all. pic.twitter.com/QywD8oaB4V

— movie posts (@itsmovies) September 1, 2021
Tom Holland and Zendaya matching outfit at the nwh premiere pic.twitter.com/4XQLZejBpB

— zoé || 107 days (@luvforholland) August 30, 2021
not now child, tom just called zendaya 'my mj' pic.twitter.com/bNlkoMYQCq

— ❁rho • shang chi 1 day (@rrhobarnes) September 1, 2021
With the above, the couple gave their relationship a different meaning on Instagram official.
After Tom called Zendaya MJ, fans started flooding the comments section. Both Instagram and Twitter accounts witnessed huge rush of fans. While some users called them 'soulmates', others tried to cheer the couple in every way that can.
The rumors of their romance ignited way back in the month of July when the couple spotted kissing in a car. Both of them fell in love for each other at the time of shooting for the movie. Although, they tried to keep their relationship secret, but couldn't do it for long.
As per a source told Times of India, "They got to know each other while on set. They became friends and started getting romantic a few months ago,"
Holland has earlier named Zendaya to be his best friend and has even praised her on many occasions.
On their professional front, Spider Man is scheduled for release in December 2021.
Also Read: Find What Zendaya, Millie Bobby Brown, Kendall Jenner Have in Common
Find all the interesting and recent entertainment news across the world. Bollywoodnewsflash brings you the highlights of all the trending Hollywood News. Stay calm and updated for the latest news directly from the world of entertainment