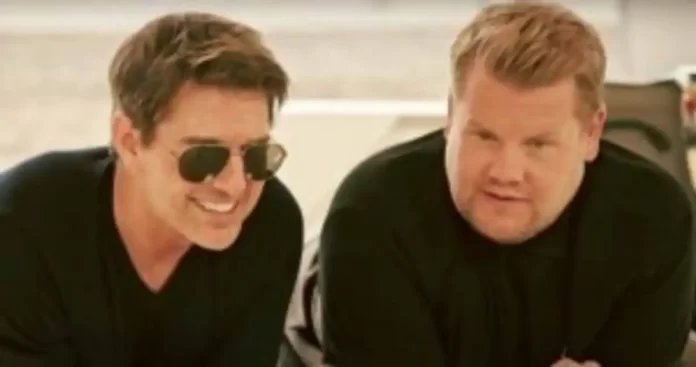 In a recent interaction, Hollywood star Tom Cruise mocks James Corden over his sudden exit from The Late Late Show.
Tom Cruise is all set to feature in his upcoming film Top Gun: Maverick after performing well in his previous film Mission: Impossible – Fallout (2018).
At this time, when Tom Cruise is waiting for his next release, fans are waiting eagerly to witness his magic on the big screen. The Hollywood superstar is currently waiting anxiously on the film's promotion.
While talking about Cruise, he's one actor who never interacts about his brutal mocking skills in the open. But this time, he tried something different as he tried to take a dig at the popular TV show host James Corden.
He was discussing about his abrupt exit from the 'Late Late Show', during his recent appearance on the show itself.
It all happened when Tom Cruise appeared in James Corden's 'The Late Late Show'. He took an exit from his dressing room to address the surprising news of his departure from the show.
This was the time when the actor tried to pull his leg claiming that he got fired from the show. This is what Tom Cruise said, "I'm here for you tonight whatever you need,' Tom began. 'I would not have fired you. I'm here for you if you need anything. I just want you to know that I'm sorry." he said.
The audience couldn't control their laughter after haring what Cruise said. But it was James Cordon who did not back down. On the other hand, the comedian/host took it in a lighter mood and said, "I would love it if you could lend me some money." he said.
James Corden further stated, "My bosses here at CBS have been incredibly supportive and extraordinarily patient with me while I made this decision." he claimed that he will be there for another year. He further claimed that he will be going out with a bang.
Also Read: When Jake Gyllenhaal Felt 'Lucky' Having Cinematic S*x With Anne Hathaway & Would Recommend "Getting In Bed With Her To Any Man"
Find all the interesting and recent entertainment news across the world. Bollywoodnewsflash brings you the highlights of all the trending Hollywood Movies. Stay calm and updated for the latest news directly from the world of entertainment.
Follow Us: Facebook | Instagram | Twitter | Youtube