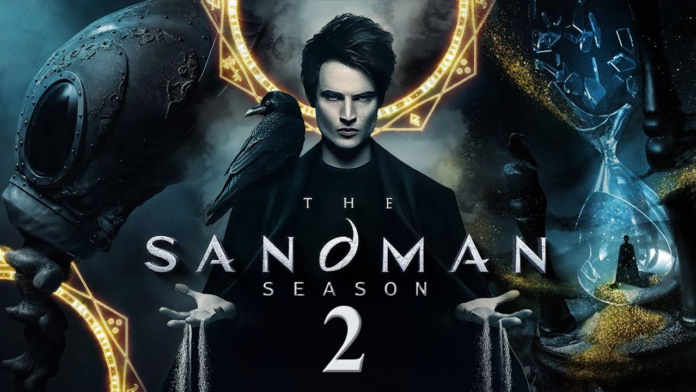 Sandman Season 2 has been a topic of anticipation since the Sandman series debuted on Netflix. The show not only succeeded in generating an enthusiastic response from its fans but also managed to receive immense praise from critics. It's worth noting that the journey to bring Sandman to the screen was fraught with numerous challenges.
Do you know hundreds of attempts were made from the last several decades to adapt this remarkable work for the screen? In spite of all these efforts, they faced rejection due to being labeled as "the worst script" Neil Gaiman had ever encountered or simply because they didn't move forward. There was even a time when Joseph Gordon-Levitt was slated to star in a cinematic adaptation of Sandman, but that project couldn't materialize.
Finally, Netflix accomplished the seemingly impossible task by delivering an epic series that looked destined to become a significant part of pop culture and also to earn its place among the timeless classics.
A significant contributor to its success lies in the fact that it diverges from the familiar Marvel and DC comic book adaptations that have become standard on screen. Another key factor was its exceptional cast and remarkable production design, which captivated audiences. It came as no surprise when it received a well-deserved renewal for a second season.
Sandman Season 2 Release Date, Cast Details & Everything Else We Know
According to a tweet by Netflix, it was confirmed that Sandman Season 2 is indeed in the works, providing a sense of relief to the desperate fans. Still, the makers chose to hide the release date for Sandman Season 2 mainly because there has been no official confirmation regarding its premiere date.
It's mainly because of the substantial budget of Sandman Season 1, that was reported to exceed $15 million per episode. The above financial commitment accounts for the impressive CGI and the captivating dream sequences that truly transport viewers into the on-screen world.
Nonetheless, Neil Gaiman reassured fans on Tumblr that scripts are actively in development for Sandman Season 2, and preparations, including casting, shooting, and set design, are already in progress. The above update gives hope that the series will return to screens, igniting the passion of fans once more.
Sandman Season 2 Release Date
The Sandman Season 2 release date has been confirmed. According to the makers, it will be released in November 2023.
For the upcoming season, one of the cast members Mason Alexander Park looked chose to reveal the release date of the upcoming season.
The Sandman Season 2 Cast 
While there is no official cast detail available at the moment, it's reasonable to anticipate the return of many first season cast members, given their crucial roles in Sandman Season 2, especially if the storyline adheres to the comics.
From the outset of the first season, the Sandman cast garnered significant attention due to its star-studded ensemble, and they all delivered exceptional performances that exceeded audience expectations.
Tom Sturridge, renowned for his roles in films like "Like Minds" and "Far from the Madding Crowd," is likely to reprise his central character as Sandman/Dream/Morpheus. Gwendoline Christie, celebrated for her roles in the epic series "Game of Thrones" and "Wednesday," is expected to continue her portrayal as Morpheus.
Adding to the cast, Vivienne Acheampong, recognized for her role in "The Witches," will take on the character of Lucienne, the librarian and guardian of dreams. Additionally, Kirby Howell-Baptiste, well-known for her work in "Killing Eve," is expected to return in the role of Death. Notably, there have been leaked images of her on the set, further fueling anticipation for her reprisal of the character.
It seems possible that Mason Alexander Park and Donna Preston, who portrayed Desire and Despair in Sandman Season 1, may return for Sandman Season 2.
Neil Gaiman acknowledged that there were some deviations from the character of Despair in the first season, but there has been no official confirmation regarding her recasting.
Barry Sloane has reportedly been cast as Endless, also known as "The Prodigal," in Sandman Season 2. Ruairi O'Connor has been spotted in set photos and is speculated to be playing Orpheus, the son of dreams. Daphne Alexander, Tafline Steen, and Charlotte Bate are rumored to appear in Sandman Season 2, potentially in the roles of Bromie (one of the Maenad), Xantho (another one of the Maenad), and an undisclosed character with limited information available.
Sandman Season 2 Trailer
Among the new characters, viewers can anticipate the introduction of Delirium, portrayed by Indya Moore. Meanwhile, check Sandman Season 2 trailer.
Conclusion
Indeed, the Sandman universe is rich and expansive, offering a wide array of characters and possibilities for Sandman Season 2. Characters like Destiny, Odin, Thor, Loki, Susanoo, Anubis, Bast, Bes, and many others hold the potential to make appearances.
The audience is eagerly anticipating the surprises and developments that Sandman Season 2 will bring to the screen, given the vast and intricate world of the comics.
Also Read: 'Money Heist' Star Maria Pedraza Opens Up Strongly Against Martin Scorsese's Claim that Cinema Is In Danger