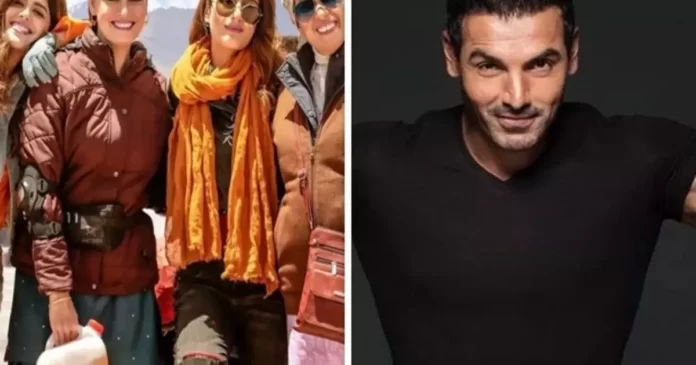 Renowned producer Pranjal Khandhdiya has disclosed an close and interesting connection between the upcoming film "Dhak Dhak" and John Abraham.
Khandhdiya has mentioned that upon reading the script for "Dhak Dhak," he was reminded of the visuals and essence reminiscent of the Dhoom film series, where John Abraham portrayed the role of an antagonist. This connection adds an exciting dimension to the anticipation surrounding "Dhak Dhak."
Producer Pranjal Khandhdiya REACTS to John Abraham's post for Dhak Dhak; says, "He's the original bike fanatic"
As per a recent social media post dated October 9, John Abraham chose to express his admiration for the team behind the upcoming film "Dhak Dhak."
The Bollywood star not only lauded the film for its emphasis on 'celebrating life' but also praised its producers, Taapsee Pannu and Pranjal Khandhdiya, for their courage in bringing it to life.
During an interview with News18, Pranjal Khandhdiya expressed his joy and gratitude for John's support, particularly for a 'non-star led film.'
This is what he mentioned, "When I got the script, the first visuals in my mind were from Dhoom. We've all watched the Dhoom series, and the iconic John Abraham riding a Hayabusa or a Ducati, and that's the first image that comes to our mind when we talk about bikes."
Pranjal also shared John's reaction upon watching the trailer of "Dhak Dhak," stating, "The one thing we were very sure of was that we weren't making a biker chick flick. Our focus was on ordinary women taking up riding and embarking on an extraordinary journey. This aspect also appealed to John when he watched the trailer." John Abraham's endorsement and appreciation have certainly added to the excitement and anticipation surrounding the film.
This is what Pranjal said, "He couldn't resist writing an appreciation note for us and personally congratulating each actor. Referring to John as his 'idol', the producer emphasized the significance of John's appreciation. "A shout-out from the man you've idolized means a lot. He's the original bike fanatic, and the whole nation knows that."

 

Dhak Dhak boasts an ensemble cast, including Ratna Pathak Shah, Dia Mirza Rekhi, Fatima Sana Shaikh, and Sanjana Sanghi. The film is set for release on October 13.
Also Read: Vijay & Lokesh Kanagaraj's Film Leo Gets the Nod from the Government to Hold Early Morning Shows
Find all the interesting and recent entertainment news across the world. Bollywoodnewsflash brings you the highlights of all the trending Hollywood News. Stay calm and updated for the latest news directly from the world of entertainment.
Follow Us: Facebook | Instagram | Twitter | Google News