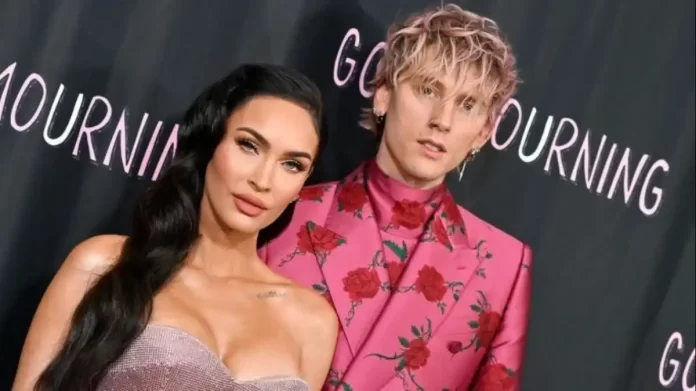 Famous rapper Machine Gun Kelly hints that he and Megan Fox could elope to get married.
As far as his wedding plans are considered, he was tight-lipped about his upcoming wedding plans with Megan Fox.
He was spotted at the premiere of his newly directed film, as reported by mirror.co.uk.
At the premiere function, when someone asked the rapper if he would "pull a Travis and Kourtney" and elope, this is what he stated, "I want to kind of just let let the world see that as it comes."
While speaking to James Cordon regarding his big day, he said, "The location is hard, trying to find a spot that's matching my artistic (vision)."
Machine Gun Kelly was also asked about the location where he's planning to get married. This is what he replied, "When they can build me, like, a red river with gothic.." before he trailed off.
As you know, he first met Megan Fox on the sets of 'Midnight In The Switchgrass'.
As per the latest update in this regard, he directed Fox in his new film and said, "She didn't let me lead her character too much in any direction. 'She was like "I got this. I understand what this character is."
He further stated, She improvised and brought Kennedy to life, and I've heard a lot of people say that that's their favorite character in the movie,' he concluded.
In the film which Machine Gun Kelly (MGK) is directing, he will be portraying the role of London Clash who has to select either his love or movie role.
On the other hand, Megan Fox revealed that she asked for something odd on her birthday. Later, she also stated that she asked him about having no regret on what they did on her birthday, as long as there were no phone calls.
This is what Fox told Directo, "My main request is always just no cell phones," she said.
"So, whatever we do, wherever we go, I just want there to be no phones."
Also Read: Megan Fox & Machine Gun Kelly Suggested to Undergo Exorcism After Drinking Each Other's Blood
Find all the interesting and recent entertainment news across the world. Bollywoodnewsflash brings you the highlights of all the trending Hollywood News. Stay calm and updated for the latest news directly from the world of entertainment.
Follow Us: Facebook | Instagram | Twitter | Youtube