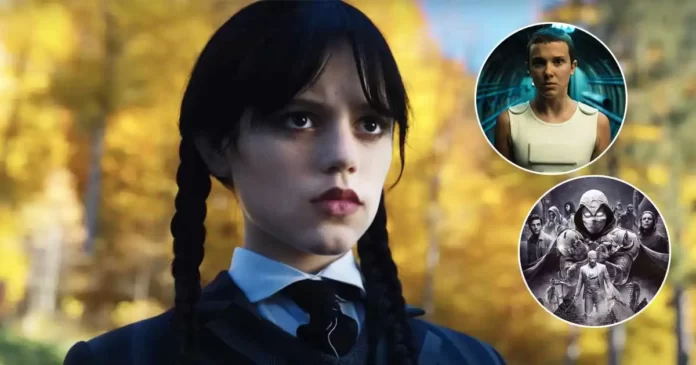 Jenna Ortega originally played the role of a psychic girl who for the first time tries to put her step forward in a school for the outcasts named Nevermore.
If you watched Tim Burton's Wednesday series, you might have loved the character of Jenna Ortega as she became quite popular among kids, teens and even adults watching the show. The series is now streaming on Netflix.
Ever since the series started streaming on Netflix, it managed to attract everybody's attention out there. As per an analysis, Jenna's Wednesday character has become the top TV character in 2022.
Jenna Ortega's Wednesday Becomes the Top TV Character of 2022 After It Beats Stranger Things' Eleven & Others
Jenna appears in the role of a psychic girl in the original Netflix series who steps her foot forward in a school which was named Nevermore Academy. The school was such that vampires, supernatural beings, and werewolves study.
One main thing that helped this murder mystery win millions of hearts is the kind of horror effects it has produced.
There is an app named TV Time which effectively tracks the performance of shows in terms of views and also encourages viewers to vote them for their favorite characters.
As per a tweet, Jenna Ortega's Wednesday character surpasses others to become the top TV character of 2022. The show has become such a success that it has beaten Millie Bobby Brown's Eleven character from Stranger Things.
The top characters of 2022! Wednesday said, "i will ignore you, stomp on your heart and always put my needs first" …and everyone said "yes, okay love that." 🖤 pic.twitter.com/gv0e2IJrQV

— TV Time (@TVTime) January 4, 2023
Likewise, it has also beaten Cillian Muphy's Thomas Shelby from Peaky Blinders, Oscar Issac's Steven Grant/Marc Spector from Marvel Studios' Moon Knight, among others.
This is what he tweet said, "I will ignore you, stomp on your heart and always put my needs first" …and everyone said "yes, okay love that." please check out the entire list:
Even after Wednesday became quite a popular show, it couldn't beat Stranger Things' cult. In spite of that, the new comer managed to make her presence felt among others.
What people like about Jenna Ortega's character is her emotionless expression, dialogue delivery along with her 'Goo Goo Muck dance'.
In case, you have still not watched the show and knows nothing about it, let's explain. Wednesday has now been announced for the 2nd season. In the meanwhile, stay tuned for more updates!
Also Read: Alice In Borderland 2 Becomes Netflix's Most-Watched Japanese Drama With 61.19 Million Viewing Hours In 4 Days