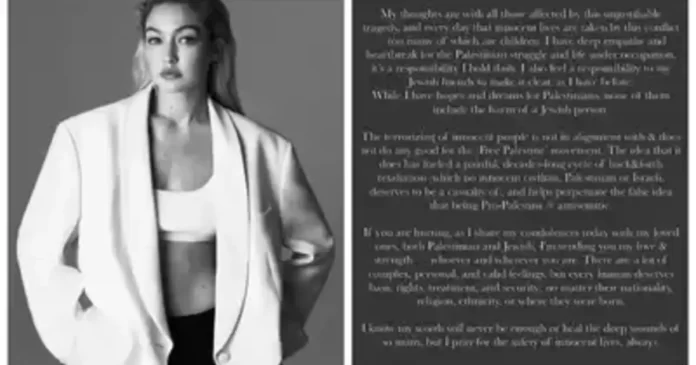 Supermodel Gigi Hadid has taken a stand on the ongoing conflict between Israel and Palestine, sharing her compassion for those impacted and advocating for peace.
She stressed the significance of distinguishing pro-Palestine sentiments from anti-Semitism, and she strongly denounced the victimization of innocent individuals.
Gigi Hadid's father, Mohamed Hadid, a native of Palestine, has also voiced his endorsement of the "Free Palestine" movement and has urged for love and compassion during these challenging times.
Israel-Palestine Conflict: Gigi Hadid Condemns Terrorizing Innocent People
Supermodel Gigi Hadid has ended her silence concerning the ongoing Israel-Palestine conflict. Gigi, who has consistently supported the Palestinian people, voiced her concerns about the loss of innocent lives and appealed for empathy and peace.
During the weekend, a surprise attack by the militant group Hamas on Israel resulted in a tragic loss of lives and triggered Israel's military response in the Gaza Strip.
This is what Gigi Hadid posted via her Instagram handle, "My thoughts are with all those affected by this unjustifiable tragedy, and every day that innocent lives are taken by this conflict — too many of which are children."
At the same time, Gigi Hadid also raised a voice for her Jewish friends. This is what she said, While I have hopes and dreams for Palestinians, none of them include the harm of a Jewish person."
Gigi Hadid via Instagram Stories. pic.twitter.com/QrwGmbktHD

— Gigi Hadid Argentina (@GigiHadidARG) October 11, 2023
Gigi Hadid stressed that the victimization of innocent individuals contradicts the core principles of the "Free Palestine" movement and contributes to an ongoing cycle of retaliation. She reiterated her conviction that supporting the Palestinian cause, being "Pro-Palestine," should not be misconstrued as being anti-Semitic.
This is what she wrote on her timeline, "The terrorizing of innocent people is not in alignment with and does not do any good for the 'Free Palestine' movement. The idea that it does, has fueled a painful, decades-long cycle of back-and-forth retaliation (which no innocent civilian, Palestinian or Israeli, deserves to be a casualty of), and helps perpetuate the false idea that being Pro-Palestine = antisemitic."
It clearly looks like Gigi Hadid's connection to the conflict is deeply personal, as her father, Mohamed Hadid, hails from Palestine. The Hadid family has continuously voiced their support for the "Free Palestine" movement throughout the years.
Mohamed Hadid, in particular, has been vocal about his endorsement of Palestine and has criticized the Israeli government in recent times.
He has strongly condemned the loss of innocent lives, with a particular focus on women and children, and has called for love and compassion to triumph over hatred and hostility during these challenging times.
Also Check: Ryan Reynolds Reunites With Shawn Levy for His Upcoming Sci-Fi Film 'The Adam Project'
Find all the interesting and recent entertainment news across the world. Bollywoodnewsflash brings you the highlights of all the trending Hollywood News. Stay calm and updated for the latest news directly from the world of entertainment.
Follow Us: Facebook | Instagram | Twitter | Google News