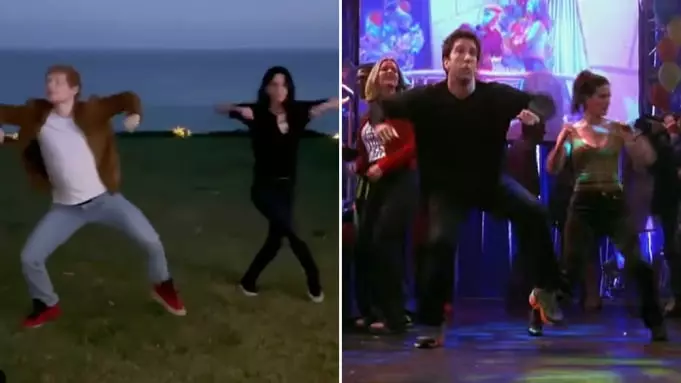 Friends star Courteney Cox recreated her famous dance number 'routine' with English singer and songwriter Ed Sheeran. The two shared the song on Instagram.
The Routine was actually a dance number of Monica (Cox) and her brother Ross (David Schwimmer) that was aired on "The One With The Routine" in the season 6 episode.
Now, in the recreated version, it looked mainly an attempt to get the attention of camera on the set of Dick Clark's set- 'New Year's Rockin'.
The steps were performed and uploaded on the social media account where the Grammy Award-winner can be seen in sync with Cox until she can be seen jumping on Sheeran quite hilariously. The above act took both of them into the ground.
And this is what Cox posted, "just some routine dancing with a friend…" with the hashtag "ReRoutine.
It was only the last week when a grand party was arranged by HBO Max. It was a Friends reunion party that had the presence of stars like David Schwimmer, Matthew Perry, Matt LeBlanc, Lisa Kudrow and Courteney Cox.
The original star cast later returned back to the iconic comedy's original soundstage on the studio of Warner Bros.
Jennifer Aniston, after returning to the original set posted an emotional and nostalgic reaction.
This is what she posted, "It was a sucker punch in the heart in a way,". "We were very naïve in what we were expecting. It was excitement. 'This is going to be so fun to walk onto the set and they're bringing all of the sets out from storage and putting it all back together.' This is what she told to Gayle King in the show Gayle King in The House.
As we just mentioned that 'Friends' hosted a huge reunion party last week, it had originally gone for over 10 seasons from 1994-2004.
The above sitcom plot revolves around the story of as any as 6 friends who are in the age groups of 20's and 30's. They now live in Manhattan, New York City.
Also Read: Freddie Stroma Replaces Chris Conrad in 'Suicide Squad' Spin-Off Series
Find all the interesting and recent entertainment news across the world. Bollywoodnewsflash brings you the highlights of all the trending Hollywood News. Stay calm and updated for the latest news directly from the world of entertainment