Dus Ka Dum- Salman Khan and Shah Rukh Khan united together to celebrate the birthday of comedian Sunil Grover on the sets of popular reality show Dus Ka Dum.
Yes, you guessed it right! SRK will feature on the special screening of Dus Ka Dum show hosted by Salman Khan.
Before we give you insights on this, we would like to update you with Salman Khan's reality show which is going strong and is nearing towards its season finale. Well, as everyone knows, the finale will be somewhat special and feature none other than SRK in a special episode.
Read More- Look How Suhana Khan Broke Her Silence After Her Private Pictures Were Leaked
Earlier, both SRK and Salman decided to shoot for the mega event in the form of a special episode. Luckily, it happened to be the birthday of comedy sensation Sunil Grover.
This happened to be the moment of joy for both the eminent celebrities who decided not only to shoot for the special episode of Dus Ka Dum with more vigour but also to enjoy the company of Sunil Grover on the sets.
Fans always like to watch both Salman Khan and Shah Rukh Khan perform on the same platform. And this time, their wishes are going to be fulfilled very soon. In fact, it would be like a treat for the fans to watch them perform on the sets of 10 Ka Dum.
SRK on #DusKaDum#KaranArjun Is Back With His Swag Can Wait for This Episode! pic.twitter.com/ZgpYMz7i1e

— ɦɑʀʀy ❤️ (@DilwalaShadan) August 3, 2018
At the same time, it is a real fun to watch both of them performing in the presence of such a huge crowd. It becomes a different phenomenon altogether in the presence of such a big crowd.
We also believe the moment should be captured well enough not only to watch them performing live in the reality show, but also to have a glimpse of the audience as well.
Every time, a new event is hosted on the sets of 10 Ka Dum, a huge crowd starts gathering. And this time, it will be no way different. As per the reports pouring in from the industry insiders, Sonytv will leave no stones unturned to make the mega event a huge success.
Now, you might be willing to know when both the celebrities were last seen together? Well, if you go into the flashback, you will come to know that both Salman Khan and Shah Rukh Khan were last seen together while shooting for Shah Rukh Khan new movie Zero.
Recently, a teaser of the film was shared and it managed to collect immense love from the audience.
Dus Ka Dum to feature Sunil Grover in the special episode?
Well, it seems that Salman Khan's reality show will also feature comedian Sunil Grover as well. At this time, fans already know that Sunil will be sharing the screen space with none other than Salman Khan in his upcoming movie Bharat.
Till date, we only know that Grover will be playing the role of Salman Khan's friend in Bharat. We are still awaiting some more inputs in this regard to better be able to let viewers know about the latest developments.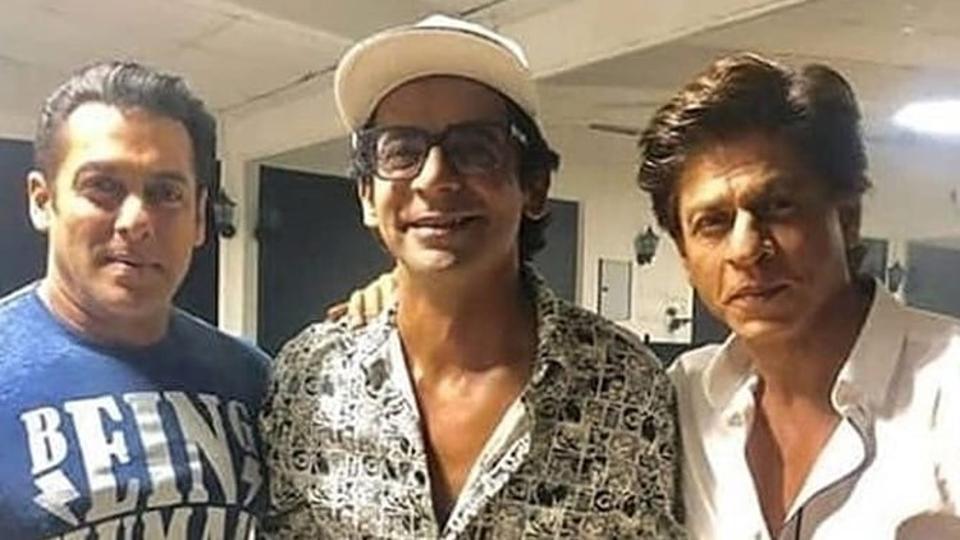 For now, we hope that the makers will reveal more details  on the character of Sunil Grover very soon.
As both SRK and Salman look keen to celebrate Grover's birthday on the sets of Dus Ka Dum, the entire sets along with the audience joyfully watched all the action.
Talking about Sunil Grover, he has become one of the illustrious personalities, especially after doing Kapil Sharma Show. During the Dus Ka Dum show, Grover performed marvellously well in his own style in which he is famous for.
Sunil Grover shared a plenty of laughter moments that will be featured in the final episode of the reality show. Well, fans will definitely enjoy the show in this special episode.
On the other hand, Salman Khan will be featuring next in his upcoming movie Bharat in which Sunil Grover will also be a part of. The film Bharat will be released on Eid 2019.
In the same ways, Shah Rukh Khan will be featuring in his upcoming movie Zero, which is an Anand L Rai's film to hit big screen in December 2018.
After the shooting for the reality show was done, both the celebrities posed and clicked pictures with the entire cast of Dus Ka Dum. The entire event was complimented with cake cutting ceremony along with some light moments.
More on 10 Ka Dum
Dus Ka Dum  is one of the most popular reality game how hosted by none other than Salman Khan. The show is telecasted on Sony tv.
Since the time it was started, the show helped the channel to regain its overall position on number 3 slot (as per Indian television ratings).
At the moment, 2 seasons have already been completed and 3rd season of the show was premiered from June 4, 2018. However, the third season was commenced from June 4, 2018.
Dus Ka Dum season 3 is back again with Salman Khan. In spite of the show being popular on earlier 2 seasons, it returned back in season 3 after a gap of 9 long years.
This time, Salman has promised to be more practical to his fans by not only entertaining them but also receiving their gestures. Not only that, it was revealed that anyone can directly participate in the show through an app.
Earlier, Salman unveiled show's promo via his Instagram account. The show was made memorable after Dabangg Khan sung a rap and also explained the power and charisma of IT world.
He said that with the help of digital world, fans can always be in touch with him through the show. Well, this was the first ever opportunity that was introduced to make fans enjoy the mega event.
SRK, @BeingSalmanKhan on the set of #DusKaDum celebrating @WhoSunilGrover 's birthday 🎂 pic.twitter.com/Zi1UxhRLl5

— SRK Universe (@SRKUniverse) August 3, 2018
How different is Dus Ka Dum with other reality shows
Well, it's quite a unique show and is way different than other game shows in India that tests participants about their knowledge on the behavioural pattern of people in the country.
The show commences after asking a plenty of poll questions.
How to participate in Dus Ka Dum
If you too want to participate in the game show, all you need is to download the app and start answering different questions that come along.
All questions are spread over 40 levels of difficulties. However, as soon as you continue to answer questions successfully, it helps you inch your chances to win the title.