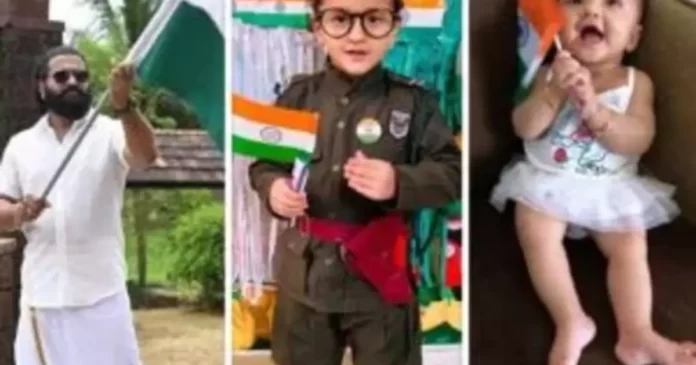 It was in the year 2022 when Rishab Shetty managed to take the entertainment industry to new heights by enacting in his film Kantara. It became a global box office hit right after it hit screens.
The reason why the film was liked by the masses is because of its bold story line, uniqueness, and power packed performances by lead actors.
Rishab Shetty is not only a versatile actor but also a down-to-earth man. He loves and respect the country and celebrates with his family. Today, he showed it by sharing an Independence Day post on his social media handle.
Check How Kantara Star Rishab Shetty Expressed His Wishes On Independence Day
Just like the nation is celebrating the Independence day, Rishab Shetty also celebrated it in his own style with his family. He shared 2 pictures on his social media.
In the 1st picture, the Kantara star can be seen holding India's flag in his hand. In the 2nd picture, he can be seen holding his kid Ranvit in the uniform of Netaji Subhas Chandra Bose. In yet another picture, his daughter Radhya can be seen holding the tricolor flag.
As Rishab Shetty posted the first picture on his social media account, he further wrote in the caption, "Happy Independence day to all the people of the state"
While sharing the other pictures he captioned, "On this 77th Independence Day, Ranvit and Radhya wish you all the best. On this 77th Independence Day, Ranvit and Radhya send greetings and smiles your way! Let's celebrate with pride."

Rishab Shetty has seen one of the biggest turnaround of his career as an actor but despite the busy schedule he has, he is also known to be a family man as he always prioritizes his family before anyone and everything. Meanwhile, Rishab Shetty is looking forward to taking the audience back to the roots and culture with the prequel of his globally hit Kantara in the making.

BOLLYWOOD NEWS – LIVE UPDATES
Also Check: Kantara Starring Rishab Shetty Completes 100 Days In Hindi Cinema Market
Find all the interesting and recent entertainment news across the world. Bollywoodnewsflash brings you the highlights of all the trending Hollywood News. Stay calm and updated for the latest news directly from the world of entertainment.
Follow Us: Facebook | Instagram | Twitter | Google News