Although, Shah Rukh Khan's upcoming film Pathan managed to grab enough publicity ever since the film was announced, it now looks to be going in the wrong direction.
The film received huge backlash from the Right-Wing group after makers released a song titled 'Besharam Rang' featuring Deepika Padukone in a bikini.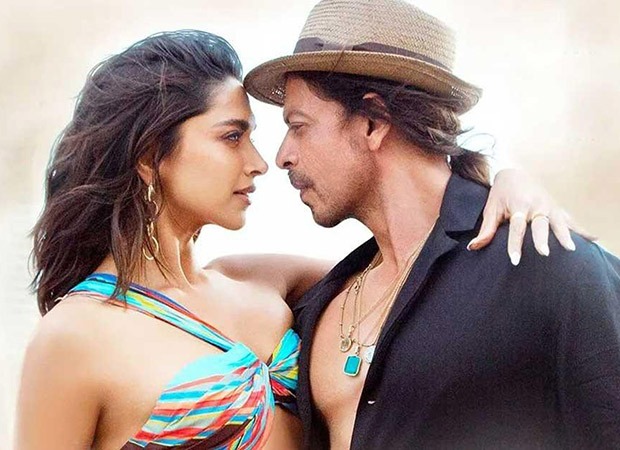 'Besharam Rang: Angry Protestors Demand Ban of Shah Rukh Khan & Deepika Padukone Starrer
A group called Veer Shivaji group protested on the streets after the release of the 'Besharam Rang' song was released from SRK's Pathan. The incident happened in Indore where the protestors demanded an immediate ban on the film.
The protestors in their protestors demanded that Pathan movie should be banned as it has hurt the sentiments of Hindu community. The incident happened after the makers of the film released a song 'Besharam Rang'. The film is expected to be released in January 2023.
Well, this is not the first time that Shah Rukh Khan's film has to face ptotestors demanding a ban. The same expressions also came from the Madhya Pradesh Home Minister Narottam Mishra after the song was released.
While speaking to the media, he took strong objections regarding the cloths Deepika Padukone wore. This is what he said to the media reporters, "I feel the title of the song 'Besharam Rang' is also objectionable in its sense. The song is made with contaminated mentality, the actor and the actress are clad in green and saffron clothes in an objectionable manner," he said.
फिल्म #Pathan के गाने में टुकड़े-टुकड़े गैंग की समर्थक अभिनेत्री दीपिका पादुकोण की
वेशभूषा बेहद आपत्तिजनक है और गाना दूषित मानसिकता के साथ फिल्माया गया है।
गाने के दृश्यों व वेशभूषा को ठीक किया जाए अन्यथा फिल्म को मध्यप्रदेश में अनुमति दी जाए या नहीं दी जाए,यह विचारणीय होगा। pic.twitter.com/Ekl20ClY75

— Dr Narottam Mishra (@drnarottammisra) December 14, 2022
He further stated that if makers are unable to consider the mistakes, he will have to reconsider releasing the film in MP.
Pathaan has been produced by Yash Raj Films and directed by Siddharth Anand featuring Deepika Padukone and Shah Rukh Khan in their lead roles. The film will see John Abraham playing the role of an antagonist.
Pathaan will hit screen on January 25, 2023.
Also Read: Pathaan Teaser: Shah Rukh Khan Features As A Spy In His Upcoming Action Entertainer