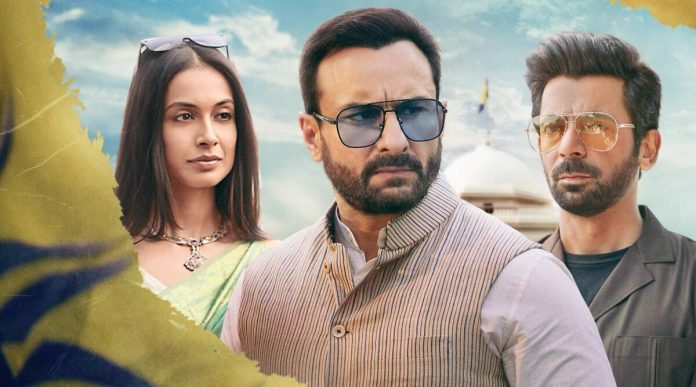 Tandav web series director Ali Abbas Zafar is in the conversation with I&B Ministry to resolve Tandav row. Now, the question arises if he's inclined to remove the controversial scene from the film.
Tandav was released on Amazon Prime video sometime back starring Bollywood icon Saif Ali Khan in the lead role. But after the series was finally aired, it ignited huge controversy over a scene that hurt Hindu sentiments.
Reacting to the film's boycott, the makers didn't wait long to issue an unconditional apology letter. Although, the matter is in the court and needs to be resolved for the sake of the web series where hundreds of people have given their contribution.
We just want to share a quick update with everybody. We are in further engagement with the Ministry of Information & Broadcasting to resolve the concerns that have been raised. We value your continued patience and support, and should have a solution shortly. https://t.co/Yp8kogTlvs

— ali abbas zafar (@aliabbaszafar) January 18, 2021
As per conflict that raised in this connection, there is a high demand that the makers should remove the particular scene from the film that has created a problem.
As per the latest Bollywood news, Ali Abbas Zafar has now shared a quick update that says he's already in touch with the I&B Ministry and hope to resolve the issue very soon.
As per the latest update on this, the director has shared the official statement issued by the cast and crew of the Tandav web series. The crew simply stated that they never wanted to hurt the sentiments of any religion whatsoever.
On Tuesday, the entire team of Tandav went online to share that the web series is purely a fictional work. People and incidents that are shown are purely coincidental and are not shown to hurt the sentiments of any religion.
And therefore, the crew take the cognizance of all the concerns expressed by the masses to apologize unconditionally if they have hurt the sentiments of anyone.
Our sincere apologies . pic.twitter.com/Efr9s0kYnl

— ali abbas zafar (@aliabbaszafar) January 18, 2021
So far, two FIRs have been filed in the case. One of them is filed in Lucknow and the other one is in Mumbai. You might remember senior BJP leader Ram Kadam had initiated a protest 'Joote Maro' movement against the entire Tandav series while other leaders simply issued the legal notice.
Some of the leaders who registered their displeasure over the web series include Madhya Pradesh CM Shivraj Singh Chauhan, Bahujan Samaj Party chief Mayawati, Uttar Pradesh Chief Minister Yogi Adityanath among others.
Also Read: Tandav Web Series Writer, Producer & Director Get Anticipatory Bail
Find all the interesting and recent entertainment news across the world. Bollywoodnewsflash brings you the highlights of all the trending Bollywood News. Stay calm and updated for the latest news directly from the world of entertainment