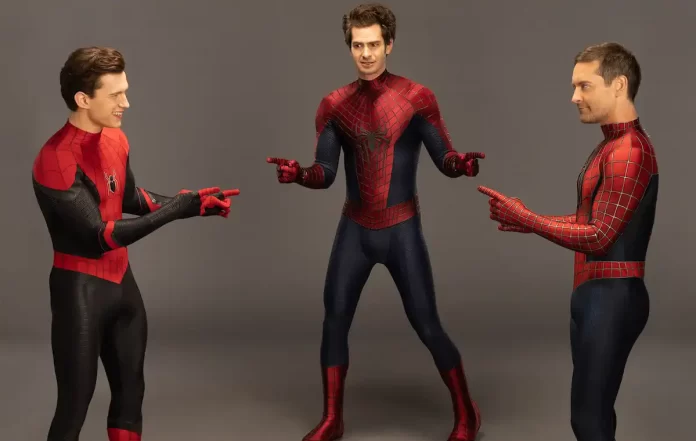 Spiderman meme that was created sometime back has now been shared on Twitter displaying the pictures of Tom Holland, Andrew Garfield and Tobey Maguire who are the lead cast of the film. As soon as it was shared on social media, it started trending.
Those who are credited to have actually brought the meme on the big screen in 'No Way Home' also looked goofing up around the sets and finally shared the picture for all to see.
The post read, "Of course, we got THE meme," it said.
The Spiderman meme straightaway went viral after rumors pointed fingers at Tobey and Andrew making a comeback as their characters from 'Spider-Man' series and 'The Amazing Spider-Man'. As the news broke, the actors first started to deny the reports. But fans looked happy to know that the above leak of Spiderman meme was actually true.
In spite of posting together in the meme all three actors are also known to have recreated the Spiderman meme in 'No Way Home'.
"We were trying to figure out the pointing thing, like, 'How are we going to do the pointing thing in a way that [makes sense]?' It took us a while," Garfield said.
He further revealed, "It kind of happened naturally while we're on that scaffolding deciding, 'Peter #1, Peter #2, Peter #3.' But actually, I remember having a lightning bolt and then running into the set and telling Jon [Watts, director], 'I've got it, I've got it, I've got it!'"
Please know that 'Spider-Man: No Way Home' has become a blockbuster and has become 3rd highest grossing film in the domestic market. The film has actually managed to gross USD 1.83 billion till date.
Not only that, the film is also likely to get the chance of winning an Oscar as well. As per an update, the 94th Academy Awards telecast is going to include a new "fan favourite" prize for the most popular film.
Also Read: Shameik Moore Starring Spider-Man: Across the Spider-Vers to Have Unique Art Style
Find all the interesting and recent entertainment news across the world. Bollywoodnewsflash brings you the highlights of all the trending Hollywood News. Stay calm and updated for the latest news directly from the world of entertainment.