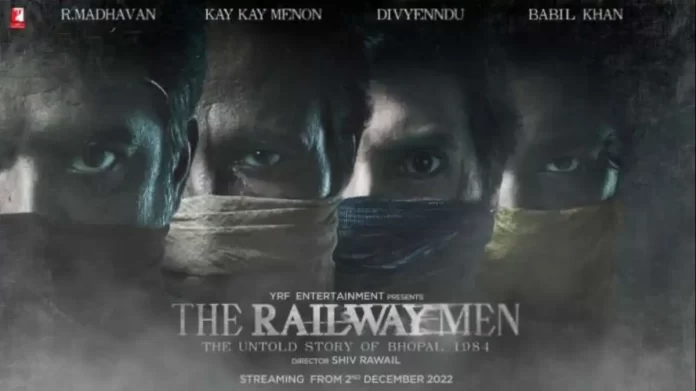 'The Railway Men' is going to be a fresh OTT project starring Irrfan Khan's son Babil Khan, R Madhavan, Kay Kay Menon and Divyenndu Sharma.
Although, the above OTT release is helmed by all four of them, the makers are expected to announce the names of some other performers in the show. As per reports, the OTT project will start streaming from December 1. 'The Railway Men' will stream on December 2, 2022.
Renowned film actors like R Madhavan, Divyenndu Sharma, Kay Kay Menon and Babil Khan wil be starring the upcoming OTT release titled 'The Railway Men' to be streamed on December 2 omward. The web series is based on the warriors of the 1984 Bhopal gas tragedy.
In order to give all those who save a number of lives on that fateful day, YRF has announced the project on the same date on which the tragedy actually happened. Today, 37 years have been passed since the tragedy happened.
Akshaye Widhani, Senior Vice President of Yash Raj Films threw some light on the upcoming series. This is what he said, "The Bhopal Gas Tragedy is the world's worst industrial disaster that has impacted scores of people since the tragedy struck the city 37 years ago. At YRF, we are constantly trying to develop the best compelling stories for the audience and this is our tribute to the unsung heroes of the tragedy who, despite saving thousands of lives on that fateful day, are still unknown to people across the world."
'The Railway Men' happens to be the upcoming project related to the Bhopal Gas Tragedy and is a tribute for all those railway workers at the Bhopal railway station.
The web series titled 'The Railway Men' will be directed by Shiv Rawail. Shiv is expected to commence all the proceedings at YRF Entertainment
Yogendra Mogre, Executive Producer at YRF Entertainment FURTHER added, "The Railway Men is our salute to their spirit, their courage and their humanity. This is a story that needed to be told. We are not going to leave any stone unturned to ensure that this story reaches out to audiences, across the world, in the best possible way so that they can understand the depth of devastation that this tragedy has caused in India."
'The Railway Men' will start streaming from December 2, 2022.
Also Read: Arpita Khan Denies Getting An Invitation to Vicky Kaushal & Katrina Kaif Wedding
Find all the interesting and recent entertainment news across the world. Bollywoodnewsflash brings you the highlights of all the trending Hollywood News. Stay calm and updated for the latest news directly from the world of entertainment.