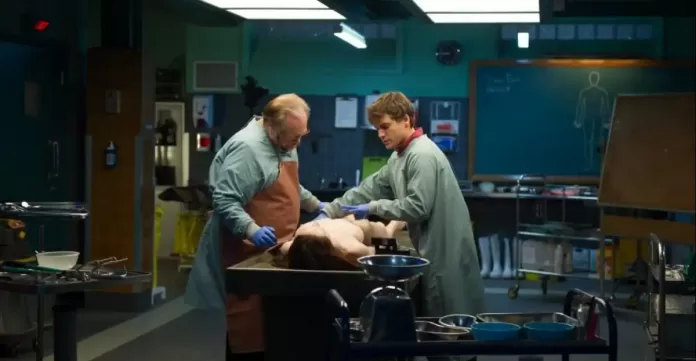 THE AUTOPSY OF JANE DOE is a  Hollywood mystery that shows Coroner Tommy and his skillful son Austin. They both run their very own crematorium and morgue in Virginia.
On one fateful stormy night, their local Sheriff brings in an unknown female corpse by the name Jane Doe.
Since, it's an emergency case, it's found in the basement of a home that happens to be the center of a multiple homicide. Also Read: AR Rahman Chosen As BAFTA Breakthrough India Ambassador
By looking at the naked eyes, it seems to be just another open and shut case. But as the process of dissection proceeds, both seasoned professionals start becoming tense.
They soon start reeling, after each layer of their primary investigation brings new frightening revelations. Also Read: Elizabeth Olsen Net Worth, Age, Biography, Movies & More
Genre:                        Horror
Released Date:        December 21, 2016 (Limited)
Directed By:            André Ovredal
Written By:             Richard Naing, Ian B. Goldberg
Duration:                99 minutes
After the proceeding further advances, the duo morticians find their subject much scared, dismembered and charred from inside.
However, it seemingly looks absolutely preserved from outside and more or less gives an indication of yet another ritualistic and mysterious torture.
Now, as soon as the duo tries to figure out their gruesome discoveries, suddenly, a strong but unnatural force takes hold of the entire crematorium. Also Read: Chloe Grace Moretz Relies on Exercise for Mental Clarity
It makes realize the kind of real horror among audiences after a violent storm rages above ground.
'Andre Ovredal' directs his first English language presentation, which is quite unique on its own.
This one of a kind Hollywood mysteries opens with a horror piece chamber where a cadaver stillness spreads more ominously unreliable after it gets into the process of dissection. 
The movie opens with Emile Hirsch and Brian Cox as son-and-father morticians. After both start the process of dissection in a fateful stormy night, they realize their subject exerting unrealistic supernatural will.
Excellent script writing & direction in one of the great Hollywood mysteries
The horror thriller shows how absurd and strange phenomena start taking place after the duo (son-father) begins dissecting their subject.
Once the process of cutting happens, it seems as if a violent force has been unleashed from somewhere. Also Read: BAFTA Awards 2021: Find the Complete List of Nominations
It wouldn't be wise here to spoil all the horrifying and terrible surprises lying beneath, but suffice it to believe that the duo would certainly want to run away from the scene.
It's especially the cadaver already rests on ice that stops resting in peace.
Both the directions and script writing strike an exact balance to justify purse suspense and macabre humor.
Now, after the film takes the last leap, it merely shows all the tense action gets replaced by much speculative explication and the expected resolution not quite as vast as might be hoped.
Also Read: Why the Actress Jennette McCurdy Walked Away from Acting

Find all the interesting and recent entertainment news across the world. Bollywoodnewsflash brings you the highlights of all the trending Hollywood News. Stay calm and updated for the latest news directly from the world of entertainment.