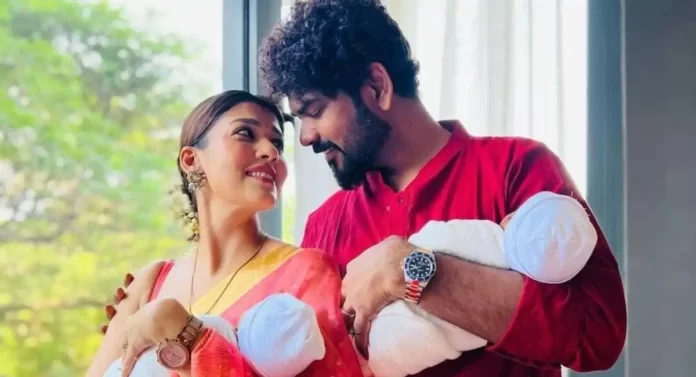 Nayanthara and filmmaker Vignesh Shivan are one of the noted couples in the South. They got married only in the last year.
The couple came into headlines after they announced they have given birth to twin boys named Ulagham and Uyir via surrogacy.
Well, this raised concerns among people and fans as how they can misuse the science of surrogacy. It's because the same was reported to be banned in India.
After such a news floated in the industry, a team was set up by the Tamil Nadu (TN) government to investigate the matter and tio check if they have broken any rules for surrogacy.
As per the latest feedback from TN government authorities, the couple has not broken any legality rules for surrogacy. And also, they have been cleared of any charges.
Also Read: Netflix to Live Stream the Wedding of Nayanthara & Vignesh Shivan
Tamil Nadu Government Says Nayanthara & Vignesh Shivan Never Break Surrogacy Laws
A three member investigation team was set up by the TN government to check if actor and director Nayanthara and Vignesh Shivan have broken any laws for surrogacy.
It was in 2016 when the couple registered their marriage but actually tied their nuptial knot in 2022. As per the report, surrogate mother had an appropriate age who was married with a child.
This is what the Health and Family Welfare Department said, "On investigating the doctor who provided treatment to the couple, it was discovered that the couple's family doctor had provided a letter of recommendation in 2020 based on which treatment was provided," it said.
At the same time, the investigation team failed to check their family doctor as they had shifted to another country and was out of reach.
The report also stated, "treatment records of the patient (Nayanthara's) oocytes (a cell in the ovary that may divide to form an ovum) were not maintained properly by the private hospital. It added that the surrogate mother entered into an agreement with the couple in November 2021 and the embryo was placed in the surrogate mother in March 2022. The surrogate mother gave birth to the twin boys in October 2022." it said.
More than the above, the investigating authorities also found some flaws in the fertility clinic as it didn't maintain proper records of the entire treatment offered to the couple. This resulted the team to take action against the clinic and closed it down.
Follow Us: Facebook | Instagram | Twitter | Google News