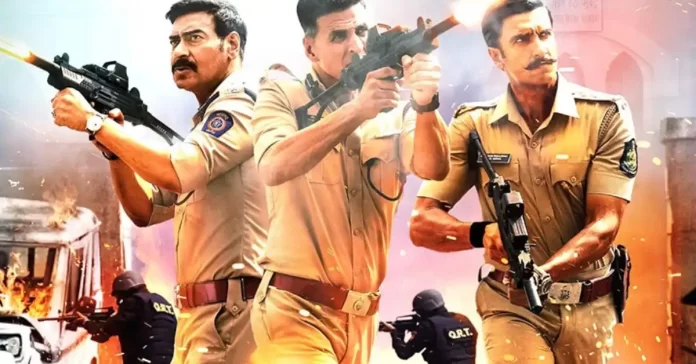 Sooryavanshi is not only a collection of big stars but also full of entertainment that you are looking for. It's a mega budget film with full of entertainment and action. Rating: 4.5 stars.
Sooryavanshi is a film meant for a theatrical release. The stage was set by Rohit Shtty when he planned to make such a grand film full of entertainment and action.
When Akshay Kumar is there, you can at least expect some meaningful performances and other action stunts. Rohit Shetty had to wait for over 2 years during pandemic to open theaters so as to release his film on the big screen.
Sooryavanshi was always projected for a theatrical release. Since it's a big budget film, there are loads of expectations from this film. It's the first film to have released after the recent Covid-19 crisis.
If this film opens well at the box office, it can set an example for to her movie makers to release their films on the same platform.
It's one of the greatest releases of Rohit Shetty so far. I think, Rohit is able to pick the pulse of the audience. He has tried to include everything that the audience is looking for. It's a 150 minute duration film.
Sooryavanshi Movie Review: A Blockbuster Entertaining Film
Story without spoiler: The titular role in the film is being played by Akshay Kumar. Suryavanshi is basically the name of a police officer (Akshay Kumar) who once decides to catch the mastermind of a recent terror attacks.
But his journey to nab the culprit doesn't go easy as he has to face a number of obstacles. On the other hand, his wife (Katrina Kaif) has almost lost in her own life. Even though, he tends to lose some of his close associates, this doesn't make him deviate from his mission.
The plot of Suryavanshi looks like predictable and death-defying, but at the same time wins the hearts. For most of the time, screenplay is the best. But the first half looks annoying, especially when they add a song and some romantic sequences with Katrina Kaif.
There are some action sequences and drama sequences that arise at times in this 2 and half hour duration film. Some of the memorable sequences in the film include:
Arrest of Gulshan Grover and soon after Akshay confronts his supporters

Chase sequence in Jaisalmer, when Akshay caught Abhimanyu Singh

Entry of Ranveer Singh and Ajay Devgn

Chase sequence of bikes, speedboats and helicopters in Bangkok
There are times when the screenplay goes slightly off topic, but it comes back with the original topic.
The biggest strength of the film is the content itself. Apart from that the dialogues part is also very good and matches with the film's plot.
Both the cinematography and background score look impressive and the signature tune takes you back to nostalgia.
Finally, Akshay is seen back as Sooryavanshi. He's shown busy with all his stunts, fighting with enemies and romancing with Katrina.
The performance of Akshay Kumar in the film looks cool. The film looks interesting due to the humor element presented by Akshay.
The role of Katrina in the film also makes sense. Overall, the film displays the performances of so many characters.
Some of them include Jackie Shroff, Sharvani, Sikandar Kher, Niktin Dheer, Rajendra Gupta, Gulshan Grover, Abhimanyu Singh, Kumud Mishra and more.
The makers have included both Ranveer Singh and Ajay Devgn which is working just like icing on the cake.
In simpler words, it looks like a master stroke in the film. Due to this, the second half of the film looks impressive.
Sooryavanshi is a film with doses of action and entertainment. Although, it looks like a blockbuster package from Rohit Shetty, we all need to wait for sometime to check how the film's performance goes in the coming weeks.
Also Read: Sooryavanshi Day 1 Box Office Prediction: Akshay Kumar Starrer Expected to Open At Rs.20-25 crores