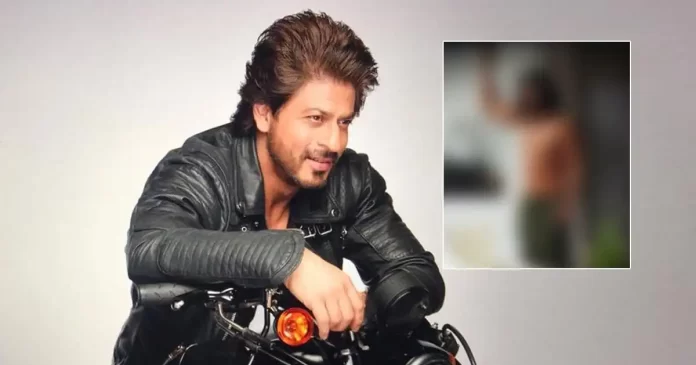 Shah Rukh Khan was last featured in his film Zero (2018) and since then no major release of the actor has taken place. This is why his fans are eagerly waiting for his next release. But the problem is that Shah Rukh Khan didn't not announce any project for long after Zero.
But now, it seems that Bollywood star is working hard for his upcoming project titled Pathaan. He's currently working on Siddharth Anand directorial which will star John Abraham and Deepika Padukone in their respective pivotal roles.
The latest is that some pictures directly from the sets of Pathaan have been leaked where the actor can be seen in chiseled body with abs. The special thing which has been looking great is that he's looking great in his toned body even at the age of 56.
In the recent past, it was came out in the news that SRK flew to Spain along with John Abraham and Deepika Padukone for the shooting of Pathaan.
All of them had stayed there for a one month long schedule. The basic reason why they flew to Spain was to shoot a high octane song in Mallorca. The director also shot a romantic song with the actor.
Shah Rukh Khan Displays His Toned Body At 56 In Pathaan
While the above story surfaced in the news a long back ago, a picture of Shah Rukh Khan leaked directly from the sets of Pathaan. The film basically features SRK outside a villa who can be seen flaunting his chiseled body.
Latst: Dammn Look By𝙆𝙞𝙣𝙜 𝙆𝙝𝙖𝙣" 🥵
"𝘾𝙖𝙣 𝙔𝙤𝙪 𝘽𝙚𝙡𝙞𝙫𝙚 𝙈𝙚 𝙃𝙚 𝙄𝙨 56 🙂😎
" When @iamsrk Say, Age Is A Number…. Work Hard And It Will All Happen Well..💞
Now Look The Result 🥵
Age On Reverse Gear SRK Trolling Age Like King#ShahRukhKhan @iamsrkiannoor pic.twitter.com/z5wFNlqWZ6

— Nurjamal Sordar NooR (@iamsrkiannoor) March 15, 2022
The actor was also seen in his long hair, sunglasses and cargo pants. Fans really liked his new avatar and some of the even compared his new look with that of a film Dard-E-Disco.
When the leaked picture of Shah Rukh Khan surfaced on social media, it clearly gave a hint of drastic transformation of the actor who can be seen really working hard for his next film Pathaan.
Take a look below the tweet where you can find his toned body making rounds on various social media platforms.
Apart from the above, SRK also announced recently about his project titled SRK+.
He actually teased his followers about a release that will surface on OTT platforms.
Although, Farhan Akhtar and Salman Khan were seen congratulating him but it was later came out to be a publicity stunt of Disney+ Hotstar.
Also Read: Salman Khan Says Shah Rukh Khan's Pathan to Release Before Tiger 3 In December 2022
Find all the interesting and recent entertainment news across the world. Bollywoodnewsflash brings you the highlights of all the trending Hollywood News. Stay calm and updated for the latest news directly from the world of entertainment.