Forbes India Rich List 2018 Let's directly talk about the figures! As per Forbes India reports, long time Bollywood actors Salman Khan and Akshay Kumar find their respective places in Forbes India rich list in 2018.
A few international Hollywood stars whose names also enlisted in the Forbes list include George Clooney, Jackie Chan, Will Smith and Dwayne Johnson.
This year, Bollywood megastar Shahrukh Khan was nowhere in the Forbes list unlike in the year 2016 and 2017. In the same ways, Aamir Khan is also not a part of this year's Forbes ratings. 
If we talk in terms of their assets, the renowned magazine disclosed that Akshay Kumar topped the chart after earning almost $41 million dollars.
Currently, he stands at number 7 position with an earning close to $41.0 million dollars, whereas, Salman Khan lags behind  him and manages to secure a well deserving 9th position.
As per Forbes India the Bollywood actor Salman had a fabulous year (2018) so far making him earn $38.5 million. The Forbes India rich list also has some other names apart from these Bollywood stars. But, it would not be possible to include everyone's name here.
But we would definitely like to reveal the name of that Hollywood star who tops the list. Well, he is no one other than George Clooney.
By looking at both Salman Khan and Akshay Kumar today, nobody would be able to predict how long they would still serve to the industry. This is because they have been a part of the Bollywood fraternity from the last so many decades and in fact, has given so much to their fans and followers.
Today, both Salman and Akshay have become versatile actors after entertaining their audience for so long.
The list given by Forbes India rich list of actors who earned remarkably in the year 2018 is topped by Hollywood actor George Clooney who collected a whopping $239 million in a period from June 2017 to June 2018.
Well, this marks the highest earning in his 35 years old Hollywood career, Forbes disclosed.
Forbes India rich list 2018- ShahRukh Khan is off the list
Both Akshay and Salman are matured Bollywood stars today. They know what their fans expect from them. And that's the reason why they select films wisely.
In the recent time, Akshay Kumar has been doing period drama films where he is making his own efforts in making people aware about all those faces who have done a lot for the country but now go missing.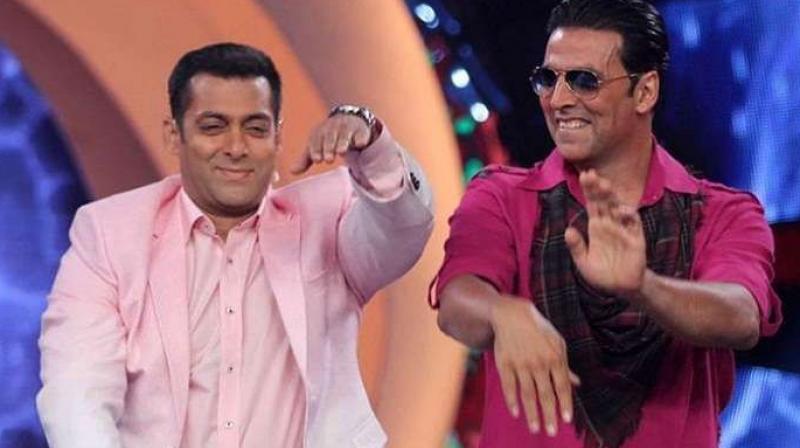 The Bollywood star thinks that films are a great medium of not only making people entertained but also make them aware of those who have contributed all their lives serving for the nation.
Talking about the recent releases of Akshay Kumar that are Padman and Gold. If we try to analyze both these movies, they registered as hits on the box office and managed to earn close to Rs 105 crore in the domestic market only.
 Another Akshay Kumar film Gold that was released on August 15, 2018 is able to steal the show. Gold is currently performing marvellously at the domestic box office.
The newly released movie has pocketed almost Rs. 71.50 crore so far. On the other hand, Salman Khan's Race 3 also managed to shake the box office after collecting a whopping  Rs 166.40 crore.
As you see, both Salman Khan and Akshay Kumar's films are doing a great business at the box office. Today, both these stars have gained a huge fan following. People simply love to watch them performing in any movie.
For example, Salman Khan has a huge fan following. In fact, he has become like an icon. Today, every other Salman Khan film is able to enter into Rs 100 crore club. It won't be wrong to say that both these Bollywood stars have become a sensation today.
Now, talking about what Forbes has to say about Salman Khan "The Bollywood mega star continues to feature in movies like Tiger Zinda Hai.
At the same time, the star is also cashing in on some back-end profits as well. His earnings are coupled with a few endorsements coming in from Chlormint gum to Suzuki motorcycles. With so much earnings, Salman Khan continues to be India's top earners."
Forbes continues to write for Akshay Kumar who is also among Forbes India rich list. The magazine says "Akshay Kumar happens to be one of the leading Bollywood stars who has most recently transitioned doing socially-conscious roles.
Some of his all time hit films where he has acted marvellously (apart from giving a social message) is Toilet- Ek Prem Katha, that is all about running campaigns to improve sanitation facility. His other film is PadMan.
The film is all about a person who decides to provide inexpensive sanitary pads to those who can't afford them.
They are mostly under privileged people living in rural India. Apart from his usual earnings, the Bollywood st
ar has some other sources of his earnings that come mainly in the form of endorsements of as many as 20 brands including Everady and Tata.
The only Hollywood star who tops the Forbes India Rich List is George Cloony who has not done any Hollywood movie for the last 2 years. As per the media reports, the popular Hollywood star sold out the Casamigos tequila company that he co-founded a British company in the year 2017.
As you can see, Cloony has been both on and off screen for the last some time, his overall earnings seem to eclipse Dwayne Johnson, whose name features right at the number 2 slot. As per Forbes, the Hollywood star has an estimated earnings of $124 million.
Cloony has recently starred in the recent Hollywood blockbuster– Jumanji: Welcome to the Jungle among other ventures.
Another Hollywood actor Robert Downey Jr. stood at the 3rd position with an overall earnings of $81 million. He's followed at number 4 by Chris Hemsworth, with $64.5 million.
Forbes basically tries to make people aware about what and how the most prominent personalities tend to earn millions of dollars.
The popular magazine has already compiled its list estimating the earnings (pre-tax) from a period between June 2017-June 2018.