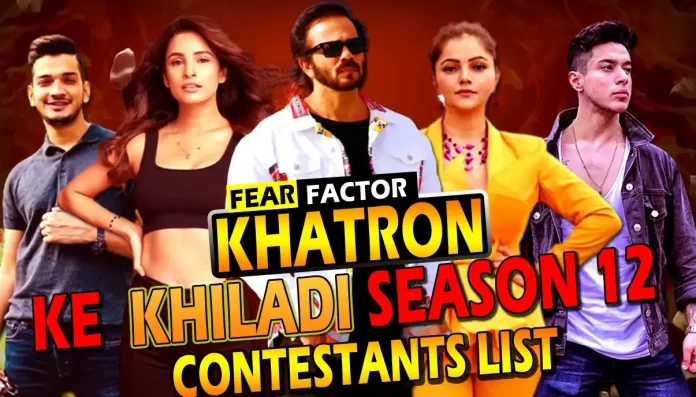 Khatron Ke Khiladi 12: The mega show was first launched in its own and unique fashion.
It's the first show that managed to launch the famous Khatron Ke Khiladi franchise and produced the series which became the most rewarding one on the history of Indian television.
The 12th season of Khatron Ke Khiladi is currently being premiered on on Colors TV. The entire series is expected to become a roller coaster ride of fun and enjoyment which will be full of suspense, drama, fear and fun.
Khatron Ke Khiladi
Soon after launching, Khatron Ke Khiladi became one of the most popular TV shows in India.
It looks quite evident by knowing that the seris attracted a huge number of audience who are looking forward the show very soon.
Considering the TRP rating of the show, it always increases in demand. Well, the demand is already so high for this show because it's loaded with all the fun and suspense that audience like to watch. And if you presents something entertaining, it will definitely succeed.
The show starts with all the charm from Rohit Shetty, talent along with some spectacular performances all over. Rohit Shetty is a renowned film producer and director who always presents something new and entertaining to the audience.
He can be seen delivering a great performance via his fine acting skills on TV show "Khatron Ke Khiladi".
Even though, Rohit has crossed the age of fifty, he looks equally daring to perform when it comes to showcasing his skills in front of the camera.
Khatron Ke Khiladi is actually based on the American TV show 'Fear Factor'. The TRP rating of Khatron Ke Khiladi has always been on the higher side. Thanks to the next level of entertainment that this show delivers to the audience.
With every new season, Khatron Ke Khiladi is going more popular. If you are one of the followers of this show, you might know that Khatron Ke Khiladi season 11 has already been ended on September 26, 2021 and the winner was Arjun Bijilani. The runner was Divyanka Tripathi.
The finale of the season 11 episode was too aired on Colors TV. Some of the contestants who became the highlight of Khatron Ke Khiladi season 11 were Varun Sood, Abhinav Shukla, Divyanka Tripathi Dahiya, and Rahul Vaidya.
Khatron Ke Khiladi 12 Overview
| | |
| --- | --- |
| Show Name | Khatron Ke Khiladi |
| International Name | Fear Factor |
| Year | 2022 |
| Season | 12th |
| Telecast on | Colors TV voot.com |
| OTT Broadcaster | Voot App or Voot.com |
| Start Date | 2nd July 2022 |
| Hosted By | Rohit Shetty |
| Confirmed Contestants | Simmba Nagpal |
Khatron Ke Khiladi 12
Even before the launch of Khatron Ke Khiladi 12, the TV show had to go through a number of speculations on social media. It's because a large chunk of population think it will start right after the end of Bigg Boss Hindi 15.
According to rumors, Simba Nagpal, a contestant of Bigg Boss 15 can be the first one to sign a deal with the makers of Khatron Ke Khiladi to showcase her skills in season 12.
As per the plans, the show will host a series of popular TV actors. But there is no such official confirmation of the same.
Industry insiders are saying that show makers are already in touch with some popular and top rated stars who perform on small screens. But there is no official conformation regarding खतरों के खिलाड़ी 12 कब आएगा और खतरों के खिलाड़ी 12 के खिलाड़ी लिस्ट कब जारी होगी।
Is Khatron Ke Khiladi scripted?
Well, there is no straightforward answer to this question as it is believed that the show is partially or fully scripted.
Khatron Ke Khiladi 12 Launch Date
Please note that Khatron Ke Khiladi is hosted by Rohit Shetty. The tagline for the new season is "Bachke Kaha Jayega, Khatra Kahi Se Bhi Aayega". The reality show is expected to be aired on Colors TV from July 2, 2022.
Do you know that even before it was launched, Khatron Ke Khiladi season 12 started making waves on various social media channels.
People are really becoming crazy for the show to get started on the said date. They also want to know if there will be yet another season next year.
Well, the great news for all spectators is that KKK 12th Season will be launched on Colors TV from July 2 to 7, 2022.
Khatron Ke Khiladi Season 12 Cast
The first confirmed name of the contestant is Simba Nagpal from Bigg Boss. And so, he will be participating in the Khatron Ke Khiladi 12.
As the show has still not been started, the makers are still trying to select the players with caution. They are selecting them by confirming everything on their list.
The makers have to say that they are still working to finalize the cast of Khatron Ke Khiladi Season 12.
They are expected to update more information about the number of contestants to be selected from each state.
Shark tank India Registration & Judges List
List of Confirmed Contestants for kkk 12
Please take a look at the list of confirmed contestants for kkk 12
| | | |
| --- | --- | --- |
| Sr no. | Contestant Name | Profession |
| 1 | Aneri Vajani | Actress |
| 2 | Chetna Pande | Model and Actress |
| 3 | Erika Packard | Model and Actress |
| 4 | Faisal Shaikh | Digital Influencer |
| 5 | Jannat Zubair | Actress and Digital Influencer |
| 6 | Kanika Mann | Actress |
| 7 | Mohit Malik | Actor |
| 8 | Nishant Bhat | Choreographer |
| 9 | Pratik Sehajpal | Actor |
| 10 | Rajiv Adatia | Model |
| 11 | Rubina Dilaik | Actress |
| 12 | Shivangi Joshi | Actress |
| 13 | Sriti Jha | Actress |
| 14 | Tushar Kalia | Choreographer |
Umar Riaz
Umar Riaz is a very well known name in the field of modelling and acting. He's the elder brother of Asim Riaz, who's the Bigg Boss 13 contestant. He was born and brought up in a middle class family.
Pratik Sehajpal
Pratik Sehajpal is considered to be a noted personality in the reality world. He got all his fame through a TV show MTV Splitsvilla.
His name was recently announced to become the first runner up of Bigg Boss 15. But the winner was Tejasswi Prakash who got the chance to take the trophy back home.
Simba Nagpal
Simba Nagpal comes from the modelling industry. He rose to fame through a TV serial 'Shakti — Astitva Ke Ehsaas Ki' where he played the part of 'Virat Singh' in the said serial. He's also known for Naagin (2015) and Bhayam (2019).
Rubina Dilaik in Khatron Ke Khiladi 12?
As per the latest reports, Rubina Dilaik has been chosen to take part in the reality show to be aired next month. If the reports are to be believed, she will be taking part in the KKK12.
Time to predict Khatron ke khiladi 2022 contestant list in the comment box below.
Khatron Ke Khiladi 12 Timing on TV
As pr the latest reports, the show will be telecast on Colors TV. But there is no information regarding the show's timing.
Last year, the makers chose to broadcast it on Saturday and Sunday from 9.00 PM onward.
But this year's timings are not confirmed as there is no official announcement made about the same.
Khatron Ke Khiladi 12 Plot
The main plot of the show is that famous comedians, choreographers, and actors have to compete with each other.
The show has its own history according to which it was first aired on Sony TV.
But now, it has been sold to Colors TV and will now be shown on OTT platform voot.com as well. The how will also be available on Youtube.com.
KKK 2022 Host Name
Until now, the show was hosted by a number of top Bollywood stars like Priyanka Chopra, Arjun Kapoor and Akshay Kumar.
But now, the most famous action director Rohit Shetty has become the face of the show.
It's confirmed that Rohit Shetty will again host the 12th season of the show.
How to Watch Khatron ke Khiladi
Khatron ke Khiladi is basically a reality TV show aired on Colors TV. This is the 12th season of the show which will be aired from July 2022.
If you are keen to watch Khatron ke Khiladi, you simply need to subscribe Colors TV. You can also go for Colors HD from any  cable/satellite TV provider in India.
Now, once you make your subscription, you can watch your favorite show by following the below given steps:
First visit the official website of colorstv and sign in on Voot

Click o the icon 'Channel Lineup' on the top left corner and select Khatron ke Khiladi from the given list of channels

Doing this will take you to the live stream page of the show where you can watch it without any interruptions
The audience can easily watch the show even before it finally goes air on TV. It's mainly because they have a service called video-on-demand called VOOT.
Even if you miss any episode of the show, you can still get it through your digital cable provider.
Khatron Ke Khiladi Season 12 Winner
Khatron Ke Khiladi Season 12 Winner will be shared once the show will be completed. As we mentioned above, the show is based on the US TV show Fear Factor.
The winner of the 11th season of the show was Arjun Bijlani who got the prize money of Rs 20 lakh along with a Maruti Swift car.
Faq's
Who are the contestants of Khatron Ke Khiladi Season 12?
Simba, Rubina, Prtaik, and Umar are among the list of confirmed contestants who last year participated in the KKK11 show. Other contestants included Abhinav Shukla, Rahul Vaidya, Varun Sood, Sana Makbul, Maheck Chahal, Aastha Gill, Anushka Sen, Nikki Tamboli, Sourabh Raaj Jain, and Shweta Tiwari
Is there a team of professionals to take care of the contestants on Khatron Ke Khiladi 12?
Yes, there is a team of professionals that existto take care of the contestants on Khatron Ke Khiladi 12.
When Will Start Khatron Ke Khiladi 12 in this year?
It will soon air on Colors TV.
Catch us for all the latest Bollywood News, New Bollywood Movies update, Box office collection, Entertainment News, Bollywood News Today and stay tuned for the latest Hindi movies only on Bollywoodnewsflash.