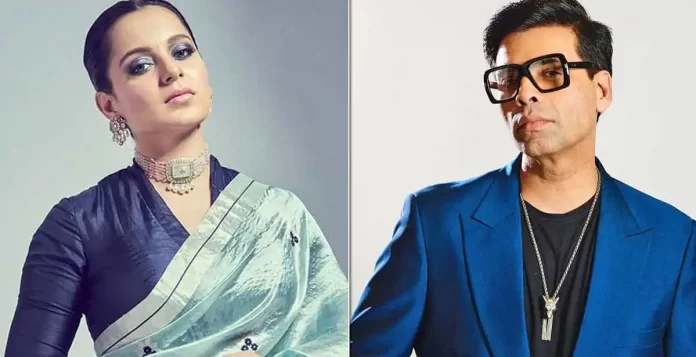 After the demise of Sushant Sngh Rajput, it was Kangana Ranaut who revealed the bad side of Bollywood and didn't spare anyone including Karan Johar. Find what she has to say when she missed meeting him during Padma Awards ceremony held recently at Rashtrapati Bhavan.
Kangana Ranaut was the only actress who came down heavily on many stars and filmmakers on the issue of nepotism. She even tried to show the dirty side of Bollywood.
Today, she's well known for her own and personal grudges with Karan Johar, Javed Akhtar, Hrithik Roshan and many others. In such a situation, when she's close around any of them, a controversy is bound to happen.
And this is what happened at the time of the recent Padma Shri Awards ceremony held at the Rashtrapati Bhavan. Talking about Karan Johar and Kangana, there are so many situations raised in the past when both of them had to face together over the nepotism debate.
The actress is even known to have taken several potshots at Johar and calling him 'flag bearer of nepotism'. She even called him 'movie mafia'.
Both of them were spotted at the Padma Awards ceremony. Interestingly, the two did not come across face to face. Later, the actress having a conversation with Times Now stated that she tried her best to spot Johar during Padma Awards ceremony.
This is what the 'Queen' actress has to say, "Our ceremonies were at different times. I think they went out of their way to keep us on different timings…I tried to spot him around but he was not there."
The actress was later asked to comment if she got a chance to speak anything to Karan Johar, this is what she replied, "Of course. There can be conflicts, there can be disagreements but it does not mean you do not believe in coexistence. That is what I believe in, coexistence. I encourage the coexistence of all kinds."
This is what Thalaivii actress stated further, "Some of the people who walked in and took their honor, made me feel so insignificant. Some of them were so simplistic and enormous in their presence. When they were introduced, I felt a sense of not being enough. Very rarely do I get that feeling. To witness such people taking their awards… I felt, am I good enough?"
Also Read: Shah Rukh Khan Silent On Aryan Khan's Case, Is He Has A Plan to Get Justice?
Find all the interesting and recent entertainment news across the world. Bollywoodnewsflash brings you the highlights of all the trending Hollywood News. Stay calm and updated for the latest news directly from the world of entertainment.