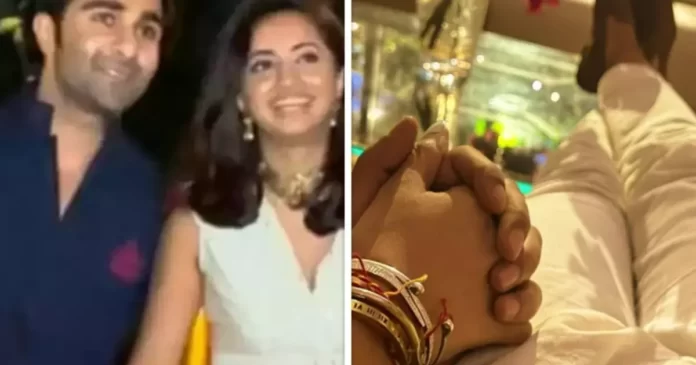 Aadar Jain has stirred attention yet again, this time by sharing an Instagram post hinting at a possible romantic involvement with Alekha Advani.
Speculation about their relationship intensified following a joint appearance at Kareena Kapoor's Diwali celebration, where they were seen holding hands.
Following His Split from Tara Sutaria, Aadar Jain Acknowledges His Relationship With Alekha Advani on Instagram
In his latest Instagram post, Aadar shared a close-up image capturing their intertwined hands. The post fueled speculation primarily because Aadar tagged Alekha, hinting at a romantic connection between them.
Accompanied by the caption "Light of my life" along with a red heart emoticon, the post added a sentimental touch, sparking further curiosity. Earlier, Adar was involved in a romantic relationship with Tara Sutaria.
The comments section added to the intrigue, particularly with Aadar's cousin Riddhima Kapoor Sahani expressing excitement, mentioning,, "I can't wait to meet ur "light"." Aadar's sister-in-law, Anissa Malhotra Jain, also joined the chorus of affection by dropping a red heart emoticon in response to the post. It's worth noting that Aadar was previously in a relationship with actress Tara Sutaria, and this revelation comes just days after Tara confirmed her single status.

Aadar and Alekha's joint appearance at the Diwali celebration, followed by their public declaration on social media, has sparked widespread speculation about their budding romance. Fans and supporters have inundated the comments section with congratulatory messages and warm wishes for the couple.

This latest development adds another dimension to the ongoing saga of Bollywood relationships, shining a spotlight on the personal lives of the industry's rising stars. As the pair continues to offer glimpses of their connection through social media, the unfolding of their romance in the public sphere remains a point of anticipation.

BOLLYWOOD NEWS – LIVE UPDATES
Also Read: Alizeh Steals Spotlight With Her Modern & Chic Diwali Ensemble At A Festive Celebration
Find all the interesting and recent entertainment news across the world. Bollywoodnewsflash brings you the highlights of all the trending Hollywood News. Stay calm and updated for the latest news directly from the world of entertainment.
Follow Us: Facebook | Instagram | Twitter | Google News