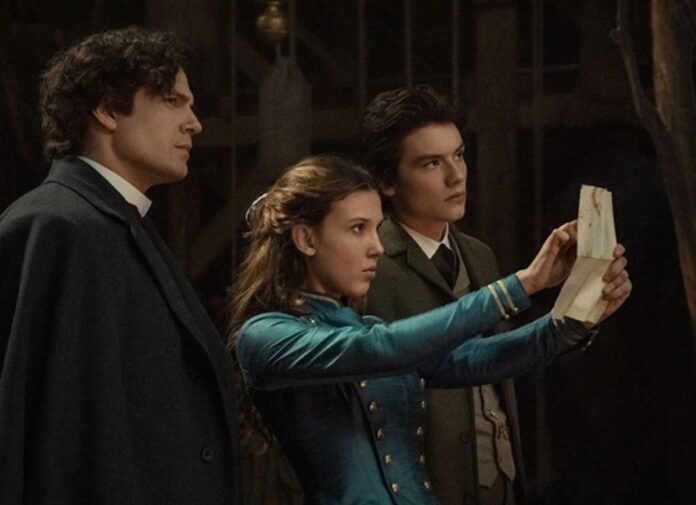 Millie Bobby Brown to star in the upcoming Netflix sequel Enola Holmes 2. She will play the role of a detective in the sequel which will air on November 4.
First Look of Millie Bobby Brown & Henry Cavill In Enola Holmes 2 Unleashed
Fans might have thrilled to know the first look images of Enola Holmes 2 starring Millie Bobby Brown. She will feature as the as the corset-wearing, fourth-wall-breaking heroine.
After successfully solving her first case, Enola looks heading towards the footpaths of brother (Henry Cavill) as soon as she tries to open her own own detective agency.
???? ⁿᵒᵛᵉᵐᵇᵉʳ ⁴ ???? pic.twitter.com/kQlvo0YlvV

— Netflix (@netflix) August 18, 2022
"We set the film in the hustle and bustle of London, which is something that we didn't really get to see as much in the first one," Brown teases. "We got to really see what this young girl is doing in this crazy city that surrounds her night and day, and we get to explore these places in great detail."
"I wanted this story to be a grittier one," adds director Harry Bradbeer, who returns after helming the first film. "I wanted to introduce her to working-class girls in a working-class world. I wanted it to be a completely new world for Enola, so she was more out of her depth."
"Fresh off the triumph of solving her first case, Enola Holmes (Brown) follows in the footsteps of her famous brother, Sherlock (Cavill), and opens her own agency — only to find that life as a female detective-for-hire isn't as easy as it seems," according to the official logline. "Resigned to accepting the cold realities of adulthood, she is about to close shop when a penniless matchstick girl offers Enola her first official job: to find her missing sister.
"This case proves to be far more puzzling than expected, as Enola is thrown into a dangerous new world — from London's sinister factories and colorful music halls, to the highest echelons of society and 221B Baker Street itself," the logline continues. "As the sparks of a deadly conspiracy ignite, Enola must call upon the help of friends — and Sherlock himself — to unravel her mystery. The game, it seems, has found its feet again!"
Enola Holmes 2 is slated to appear on Netflix in November
Also Read: Millie Bobby Brown All Set to Star in Sci-Fi Movie 'The Electric State'