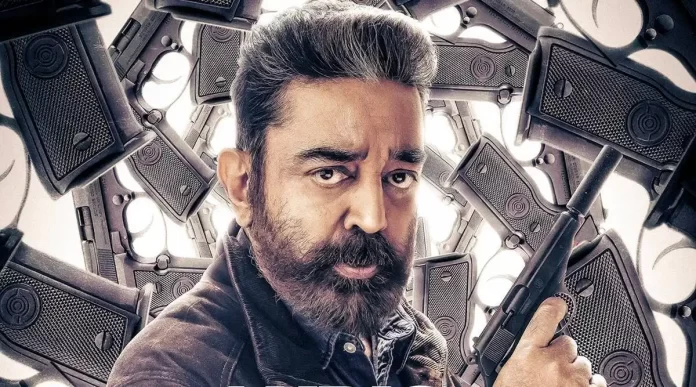 Vikram trailer: Vikram is going to be star studded action thriller featuring Kamal Haasan, Vijay Sethupathi and Fahadh Faasil which will hit screen on June 3, 2022.
Without a doubt, Lokesh Kanagaraj has given films with a reason to watch. And this time too, he has created something which the audience would love to watch.
His newest creation is Vikram which is a Tamil language dark action thriller. At the launch of the Vikram trailer today, it received huge applause from the audience.
As the film has the presence of Kamal Haasan, Vijay Sethupathi and Fahadh Faasil, one can expect a high action drama in the film.
And this is what the audience would love to watch. In short, the film is expected to have every element of what the audience would expect.
The trailer commences with the voice over of Kamal Haasan. He's seen narrating the story where he talks about the nature deciding who all will be living in the jungle. But in the real world aka concrete jungle, he surely decides who all are going to live on.
While Kamal Hassan continues narrating the story, we meet with the characters of Fahadh Faasil and Vijay Sethupathi. In the trailer, it's shown Fahadh will play a character who's not keen to follow all the rules and regulations made.
At the last, Vijay happens to be a bloodthirsty local goon. Among all the violence and bloodshed comes the mystery man for Kamal who looks quite pleasant and puts his deadly hand-to-hand combat skills on full display.
In short, the trailer promises to be a perfect action thriller with a face off between Vijay, Fahadh and Kamal. Now, you need to check who will become victorious out of these three.
Before launching the Vikram trailer, the makers chose to drop the teaser of the film. The teaser was released basically to introduce the character of Kamal Haasan to the audience. The teaser showed how Tamil superstar was loaded with axes, knives and guns.
As we mentioned earlier, Vikram is going to be a huge leap for the director Lokesh Kanagaraj who has previously given some hits like Master (2021), Kaithi (2019) and Maanagaram (2017). This time Lokesh has both written and directed the Kamal Haasan starrer.
Also Read: Suriya to Play A Cameo In Kamal Haasan's Vikram? Check Details
Find all the interesting and recent entertainment news across the world. Bollywoodnewsflash brings you the highlights of all the trending Hollywood News. Stay calm and updated for the latest news directly from the world of entertainment.
Follow Us: Facebook | Instagram | Twitter | YouTube