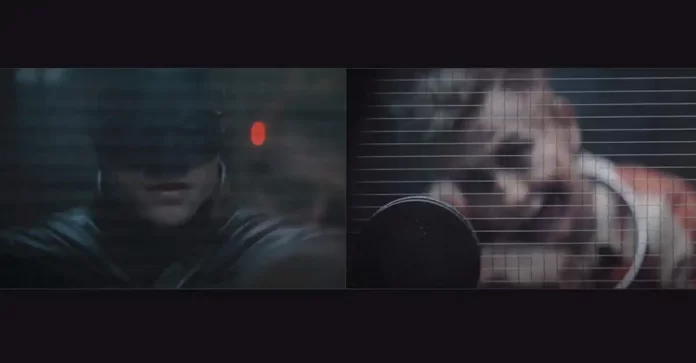 The Batman fans took to their Twitter handle to react to the 5 minute long video posted today.
The latest is that The Batman's Joker's face has now been revealed from a new deleted scene. Those who have watched the Robert Pattinson starrer are aware that they are introduced to the to the Clown Prince of Crime. But fans only had to witness a glimpse of him at the time when talking to Paul Dano's Riddler in Arkham Asylum.
It all managed to keep moviegoers at their toes after the role was played by Barry Keoghan. It also made fans to ask more from the Keoghan's Arthur Fleck.
But now, it looks like fans won't have to wait longer to look at Barry Keoghan's Joker from The Batman. It's because Warner Bros has recently released a deleted scene from the film.
The short video clip witnesses the main character of Robert Pattinson where he meets the villain Arkham Asylum for a conversation. Most fans now feel that Barry's version of the Crown Prince is looking more like a nightmare to them.
As soon as the 5 minute long video clip was released, it made fans to post their reactions on Twitter. This is what one Twitter user wrote, "Barry's Joker is terrifying. He's so unhinged I love it. Definitely want to see more," wrote one user while reacting to it. "I love when directors have new takes on a character and this just reinforces that opinion. This looks really good and scary. Why was it cut???" he wrote.
Please take a look at some more reactions on The Batman's video clip released.
Earlier, Barry Keoghan took to his Twitter handle to say about the deleted scenes of the film. This is what he had to say regarding this, "Honestly, I am stuck for words, but I am very very BLESSED to play this role after the AMAZING AMAZING Actors before me. Here's my version. Enjoy," he wrote.
Currently, The Batman has become a film which has broken several box office records within a span of a month. As per the records, the Robert Pattinson starrer will soon enter into the 4th weekend and has already collected $609,390,237 globally.
BARRY KEOGHAN AS JOKER IN THE BATMAN DELETED SCENE pic.twitter.com/s230ZFMAjo

— susie (@pauldanod) March 24, 2022
Dude this #TheBatman shot with The Joker laughing in the Batman is incredible🔥🔥 pic.twitter.com/bZ8Gj8rFVF

— Robby Knuckles (@Bobbert_Whitt) March 25, 2022
As much as i don't really wanna see Joker in The Batman sequels. The deleted scene did show a pretty great performance and the dynamic between him and Batman was good. Plus that design is hella crazy. I kinda love it. pic.twitter.com/V8OVZ1j9VD

— Ashley💖|TheBatFamily 🦇 (@TheBat_Family) March 24, 2022
I am digging Barry's Joker design in the Batman ngl pic.twitter.com/9wPomwD6ku

— Joe (@hzjoetv) March 24, 2022
BRUHHH They said he hasn't even become The Joker yet.. Already looking like he's been through hell & back. 💀 I'm guessing there will be changes to clean up the look but this showed us how rough life was prior. I also really like the twist that he has a past with BM. #TheBatman pic.twitter.com/TiyHr8x0MO

— Ryōmen D. Sukuna ~ Shadz (@ShadzMangaOnly) March 25, 2022
Also Read: Barry Keoghan to Michael Keaton: Actors Who Starred In DC & Marvel Superhero Movies At the Same Time
Find all the interesting and recent entertainment news across the world. Bollywoodnewsflash brings you the highlights of all the trending Hollywood News. Stay calm and updated for the latest news directly from the world of entertainment.