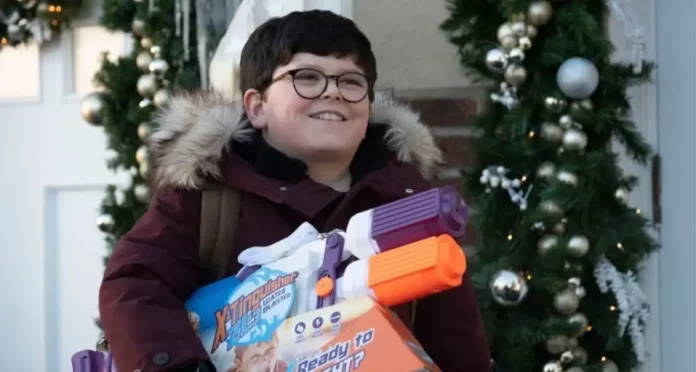 Disney+ unleashed the first trailer of its upcoming movie Home Sweet Home Alone which is slated to release on November 12, 2021. The upcoming American Christmas comedy film will be a franchise to Home Alone.
The trailer of the film showcases a ten year old Max Mercer which is being played by Archie Yates (Jojo Rabbit). Things start taking an ugly shape for him when he is accidently left behind while his family leaves Tokyo for the holidays.
When Max first realizes that he has left behind, he rejoices to the idea that he has the entire house to himself where he can jump off trampoline with a medicine ball.
But all his idea vanishes when two married robbers portrayed by Rob Delaney, and Ellie Kemper try hard to break into his house. And this is when Max crafts a plan.
Looking at the robbers, he decides to defend them as he knows that it's his own house.
Soon he stands in front of his battle plan nicely mapped out in chalk. While Max's parents plan to book a flight back home, the little kid tries hard to launch his billiards balls and trying to do anything to drive them away from the house.
The above comedy also stars Chris Parnell, Ally Maki, Devin Ratray, Pete Holmes, Aisling Bea, Tim Simons and Kenan Thompson in their pivotal roles.
Home Sweet Home Alone's screenplay has been written by Streeter Seidell and Saturday Night Live's Mikey Day. It was directed by none other than Dan Mazer.
The film is actually the reboot to the classic film Home Alone that was directed by Chris Columbus and created by John Hughes.
The original comedy released in 1990 starred Catherine O'Hara, Joe Pesci and Macaulay Culkin. It had managed to earn two Oscar nominations for song and the original score. It was followed by two sequels.
Home Sweet Home Alone will release on Disney+ on November 12, 2021. And so, the subscribers will be able to stream the film online as well as enjoy some other releases along with some exclusive offers.
Also Read: Eva Longoria, Eugenio Derbez to Star In YA Adaptation 'Aristotle and Dante'