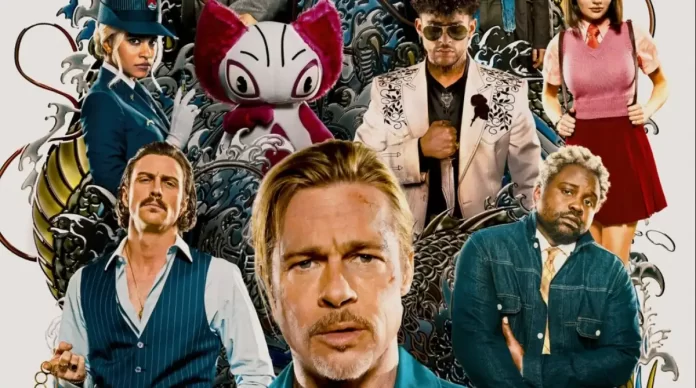 Bullet Train Box Office Collection: Bullet Train is based on the famous Japanese novel Maria Beetle. The film stars Brad Pitt in the lead role. Although, the film is to be released in the US on August 5, 2022, it has already been released at a few places.
Bullet Train box office collection can be predicted by the fact that the film had a moderate hype that increased in the last few weeks of its release.
No doubt, fans looks eager to watch their favorite star Brad Pitt in yet another astonishing role. He is returning after a span of 3 years since Ad Astra and Once Upon a Time in Hollywood.
Bullet Train is basically an action comedy based on the novel Maria Beetle. The film recently had its premiere launched by the makers where the leading stars including Brian Tyree Henry, Aaron Taylor-Johnson, Joey King, Brad Pitt and many others.
All of them got a chance to walk on the ramp in their own dazzling outfits. On one occasion, Brad Pitt chose to wear a skirt in one of the screenings.
The film at present is looking for its release tomorrow. With that, experts are giving their prediction on the Bullet train box office collection.
As per an article published in 'Deadline', the film may open with up to $60 million global opening on its very first weekend. Out of this amount, the film may collect up to $30 million at the domestic box office (North America).
Bullet Train Box Office Collection: The Film's Reviews Don't Look Overwhelming
In general, the collection looks great. But if you compare it with some other non-MCU films, the opening looks quite low. But according to early reviews of Bullet Train, they don't look overwhelming.
There are some experts who believe that all the action sequences look repetitive. Also, there was too much action throughout the Brad Pitt starrer.
The film has got a satisfying rating at IMDb which is 7.5 out of 10. So, are you getting excited to watch the upcoming Brad Pitt starrer tomorrow?
Also Read: Brad Pitt Upcoming Movies List
Find all the interesting and recent entertainment news across the world. Bollywoodnewsflash brings you the highlights of all the trending Hollywood News. Stay calm and updated for the latest news directly from the world of entertainment.