BGMI iOS Release: Fans Excited Over Battlegrounds Mobile India iOS Release: Being a player, you might be aware that PUBG Mobile was banned a few months back by the government of India due to security issues.
After that another company by the name Krafton instantly picked the player's nerves and launched Battlegrounds Mobile India (BGMI). It was the rebranded version of PUBG Mobile.
Today, the company has launched its iOS version as well to help hundreds of iOS users across India. Now, with the company's decision to launch BGMI iOS version, users were thrilled and excited with the decision.
It's because this was being expected from the company over the last 10 months. And now, when this demand of players was met, their excitement level was at the next level.
Please note that the game is now available on the Apple App Store and anyone can download it for free.
It was on the occasion of Independence Day when Krafton had announced Battlegrounds Mobile India officially. It was on the occasion of their Freedom-Face-Off-Event.
In the same month, it was Krafton that announced its mobile application at a BGMI event. And now, the same has been released for hundreds of iOS device users. Please also note that the launch of Battlegrounds Mobile India was also teased by Dynamo Gaming as well.
Now, with the company's decision, many professional players also came along to celebrate the decision which was going pending for the last so many months. They in fact had a great time celebrating on social media.
Now, take a look at some of the reactions of iOS users right after the release of Battlegrounds Mobile India iOS version.
Battlegrounds Mobile India iOS App
Abhijeet Andhare Aka Ghatak Shared on Instagram:
"Finally, the game has come in full version on iOS. Enjoy playing the game in full power"
Along with the above, a number of memes were also shared on Twitter. Take a look at some of them below: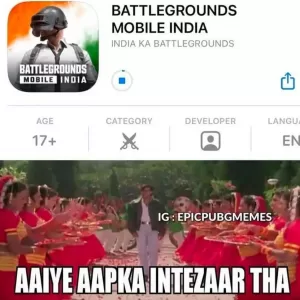 Krafton offering rewards to all BGMI iOS users: As you guys know, KRAFTON has already announced the launch of its BGMI iOS version for gaming fans in India, the game is made available on iOS devices as well. The company has made this announcement on August 18, 2021.
With that, KRAFTON has also released the minimum requirements for various iOS devices to play the BGMI iOS version game on their respective devices flawlessly. Also, there are some huge rewards waiting for them who have just joined.
To start with, all players are entitled to receive some astonishing Welcome Rewards like 300AG, the Celebration Expert Title, Recon Outfit and the Recon Mask that can be easily redeemed from the Event Center.
In order to welcome players to "India Ka Battlegrounds", there are some exclusive gift items like classic Crate Coupons and Supply coupons that can be easily redeemed separately from the Event Center.
Please make sure that you allow all the below mentioned steps to download BGMI (Battlegrounds Mobile India) on iOS:
Step 1: First, you need to visit the official website of BGMI and click on the link- App Store Link
Step 2: Next, scroll down the home page of the website to find a link- 'India ka battlegrounds'
Step 3: Click on the button 'Download Now' where you get two options to choose from. Go ahead and make your choice between Apple iOS and Android OS
Step 4: If you are an iPhone user, the website will directly redirect you to the Apple Store
Step 5: Once you successfully land on the Apple Store, simply click on the install button. This will download the BGMI iOS version on your device.
Also Read: Battlegrounds Mobile India (BGMI) Available On iPhone Apple; Download Now for BGMI iOS Apple App Store