ASUR: When Asur released for the first time in the year 2020, it grabbed a great success at the box office. More than that the audience enjoyed watching the show. To be precise, the first season of Asur became super hit and got huge fan following as well.
Although, most subsequent seasons of Asur failed to meet the expectations of the audience, Asur 2 was in fact an exception. Thanks to Oni Sen, the director who gave all the justice to this gripping and unique plot.
Asur 2 Director Oni Sen Clarifies If He Feared A Backlash for the Religious Element, Check Below
One of the biggest news portals Bollywood Hungama had a word with the ASUR director Oni Sen.
They asked him about the success and failures of the show along with the viewer's feedback regarding the show.
Take a look below what he Oni Sen replied to the questions asked.
How has the response to Asur 2 been and how has life changed in these 2 weeks?
Initially, we all were worried about the show and even had no idea how it will look like. And so, we felt the first season for us was like a dark horse. After the first season of ASUR became popular, we started thinking to extend it for the 2nd season (ASUR 2). This time our storytelling was quite different. And more than that the audience was looking forward ASUR 2 so desperately. We were getting some amazing messages from people from all walks of lives. Even though, the show mainly about real characters and human mind, still people were able to grab the intent well. This is where I thought it somewhat more heartening than the show just being popular. In spite of the above, we all have a dark side to everything. And we fell prey to it. As people understood all kinds of nuances nicely, it was a positive thing for us.
Asur 2 is available on Jio Cinema. Do you think the fact that it's free for all helped the show reach many more consumers?
Since it's free, of course, it reaches out to more people. No two ways to that. I was bombarded by messages on DM. Pehle toh curious messages hote the. Then the tone would change. I got emotional messages that 'Bhai, kya kar rahe ho? Kab aayega Season 2? Hamara patience khatam ho raha hai'. I remember one person wrote, 'My son was born when season 1 dropped. Now he's 3 but there's no sign of season 2'. Some even sent angry messages. Finally, when Asur 2 was out, some people wrote, 'We binged-watched in a day. Now we don't know what to do with our lives'! And I am wondering, 'Bhai, isme main kya kar sakta hoon' (laughs)!
So, you see, that anticipation would have pushed a lot of people to watch the show any which way. But of course, the fact that it was free did help in reaching out to a lot more people.
Asur's first season was released just before the lockdown. That also helped the show immensely…
Absolutely. People were stuck at home and were looking for content. It was also the beginning of content exploding on OTT.
Was Arshad Warsi the first choice for the role of DJ?
Arshad Warsi was already inducted into the project before I came in. We all are huge fans of Arshad, but he hadn't done anything of this kind before. We had a very strong point of view of what DJ and Nikhil should be like. I had a long chat with him about it. He kept surprising us as he was quite invested in the process. He gave inputs on how he'll talk, how he'll walk etc. I believe more than what you say, what's important is what you imply. That subtext gives a lot more idea about the character.
The casting of Asur and Asur 2 was bang-on. I'd like to especially mention Veeshesh Bansal who plays young Shubh. He took the show to another level…
Often you see an actor in a certain kind of role, you usually imagine him in a similar part. I saw Veeshesh Bansal in Yeh Meri Family in which he plays a very sweet boy. There was something about him, which I felt was apt for Shubh and I think it was to do with the stillness of his eyes. Shubh according to me was going to create a storm but you will not feel a flutter inside him. We sat down and worked on how he should perform. Young actors tend to perform on every word. Here, everything was flat. Shubh didn't need to emote at all. Did you notice that uska shawl kabhi hawa se nahin udta hai? Uske chalne ke tareeke mein thehrav hai.
When we were shooting for Season 1 in Banaras, it was bitterly cold. The shoots used to take place at night and Veesesh was supposed to shoot shirtless in a dhoti. I felt so bad. He would say, 'Sir, I am alright'. Yet, I would ensure there's a fire next to him so that he can stay warm. He didn't complain even once.
Asur 2 went on floors in July 2021 when the COVID-19 wave was still wreaking havoc. Moreover, this show has been shot in multiple places and has so many actors. Was it challenging to shoot a show like this in those times?
Absolutely. At that time, the COVID situation was even more unpredictable and scary. We all had to be very careful. We were wearing masks. After every 10 days, we would get tested. During the shoot of the climax scene in Banaras, there were 400 junior artists. It was a 3-day shoot. Every day, three hours would be spent doing their RT-PCR tests. Then they used to be allowed at the shooting venue. Before the take, they would be required to wear a mask. They were allowed to remove the mask only during the take. So, coordinating all this used to be cumbersome. But we took on the challenge as we had to work. Fortunately, we all were safe though we shot in multiple places like Mumbai, Banaras, Delhi and Manali.
Did anyone fall prey to the disease during the course of the shoot?
No. But two days before the shoot wrap-up, a crew member tested positive. This was a time when we used to be like 'Hum bach gaye Covid se'. The moment he tested positive, we had to stop everything and get everyone tested.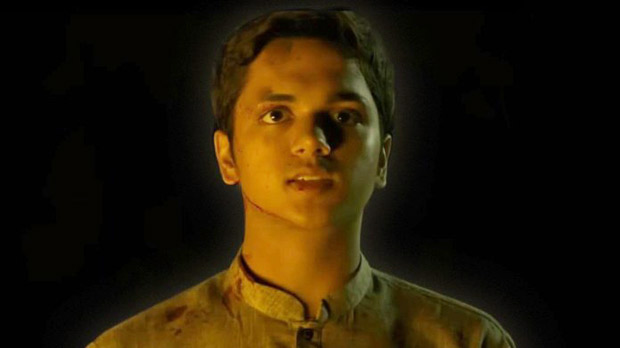 Asur 2 is based on religion and mythology. Did you fear a backlash, especially in the times that we are living in? Was there any attempt made to censor or filter out content to not hurt anyone's sentiments?
The moment you are talking about mythology, you have to be careful. I won't say it's fear, but one has to be cognizant of being sensitive. Through our show, we are not trying to make a political or religious statement. That's not the intent at all. We were picking up bits from mythology. Everything was researched to the T. Mythology is not history, right? One can prove historical events, like a particular king invading a particular kingdom. Mythology ka aisa nahin hai. But as long as it's there in the scriptures, we would take it from there. At the same time, writer Gaurav Shukla and his team worked hard to ensure that nothing in the show is derogatory to anybody. Kali vs Kalki is a known thing. We have not invented it. If you look at the root of our show, there's this guy who is delusional and who thinks he's Kali. We are also not justifying his actions. So, it's a good vs evil story. The difference is that both good and evil are in shades of grey.
How did you react when you realized that the show got leaked?
I was baffled. The leaking of content is unfortunate. I am not even getting into the morality aspect of it. But the fact is there are so many people who have worked on the show. There are platforms that are funding it. If things keep leaking, work will suffer at some point. At one level, I can say that people were eager and curious. Naya episode ek-ek din mein aa raha tha. It's not like ek-ek mahine ke baad aa raha tha! So yes, it was unfortunate.
Asur 2 ends with a hint of Season 3. Is the writing going on already? When will it go on floors?
Gaurav and I talked about it while season 2 was happening. Both of us believe that just because Season 2 has been very successful, it doesn't mean we are compelled to do Season 3. The compulsion will be if we get an idea that is fantastic enough to excite us to devote two years of our lives. We are waiting for that idea. Once Gaurav comes up with something is when we'll take a call.
Seasons 1 and 2 were connected in many ways. While Season 1 was happening, Gaurav had already thought that Season 2 kaunse direction mein jaayega. After season 1 got over, we started discussing and building up on it. We added the technology angle kyunki aaj kal hum technology se kaafi darte hai. Hence, we made it more relevant to today's times.
What next?
There are a number of good scripts that I have come across quite recently. All these scripts are of series and films. Just see which of them first gets a green light. And after that I will start working on it.
Also Check: Tudum 2023