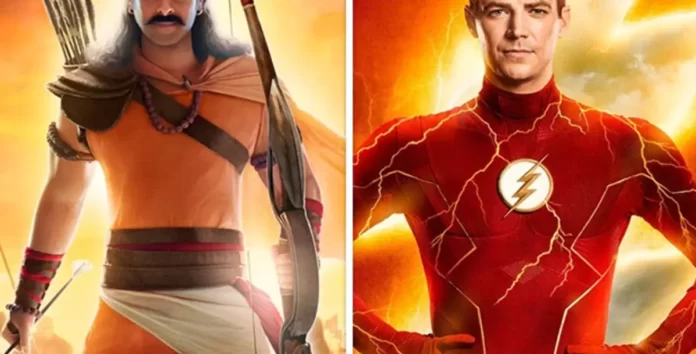 It's only a few days left for the release of Adipurush. The excitement for the film has already been on a level high.
People are so excited about the release of Adipurush that advance booking of the film has already been started in a few overseas locations. But in the domestic market, the Prabhas-starrer looks to take a huge opening.
Adipurush Won't Release In IMAX; The Flash to Take Over All Shows In IMAX Screens
As per the original plan of the Adipurush makers, the film was to release in all 2D, 3D, and IMAX formats. But now, the entire plan has been dropped.
As per a report published in Bollywood Hungama, Adipurush happens to be the greatest film ever made.
This is the reason why the makers feel that it would be suitable in a particular situation to get it released in IMAX screens.
The source further revealed that for now, it won't be possible as Warner Bros' superhero film The Flash is also expected to release on the same day and the makers have already booked IMAX screens quite earlier.
The Flash Trailer
According to the IMAX rules, 2 IMAX films are not allowed to release on the same day. This is the reason why the makers shelved the decision to release Adipurush in IMAX theatres.
The source also added, "Adipurush was initially scheduled to be released on January 12, 2023. The teaser, which was launched on October 2, 2022, carried the IMAX logo. But then the film was pushed by almost 5 months. Until the first week of April 2023, the assets and posters of Adipurush did carry the IMAX logo after which it stopped. The trailer, which was launched on May 9, also didn't feature the IMAX logo."
An industry insider commented, "A film like Adipurush should have released in IMAX. But alas, that's how IMAX management functions."
The film is directed by Om Raut and will be released worldwide on June 16 in Malayalam, Kannada, Tamil, Telugu, and Hindi languages. On the other hand Flash will be released in India on June 15 which will be just a day before its release in North America.
Also Check: Ranbir Kapoor All Set to Book 10,000 Tickets of Adipurush for Underprivileged Kids