Bollywood is on the brink of introducing a fresh talent, and this time it's the accomplished niece of Salman Khan, Alizeh Agnihotri.
Prior to her debut in Bollywood, Alizeh has been making waves among fashion enthusiasts as an emerging style icon, setting herself apart despite her family connections.
Her innate elegance and fashion sense are carving a distinct identity for her in the industry. She brings forth a unique blend of glamour and talent.
Diwali, the festival of lights, not only signifies lively celebrations but also showcases Bollywood's elite dressed in their most splendid festive attire.
This year, among the attendees at Arpita Khan and Ayush Sharma's Diwali festivities was the soon-to-be-renowned actress, Alizeh Agnihotri.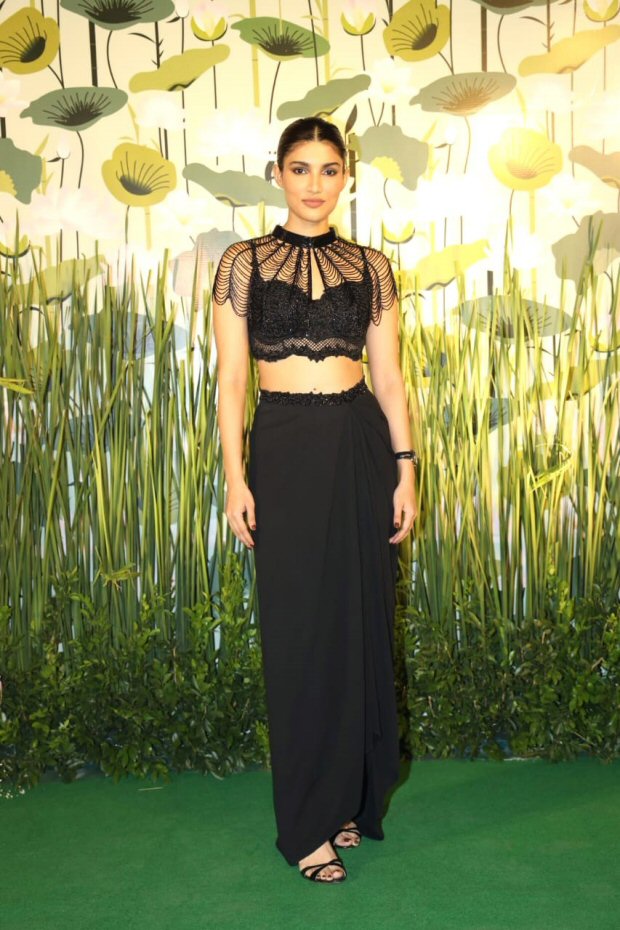 Alizeh Steals Spotlight With Her Modern & Chic Diwali Ensemble At A Festive Celebration
At Arpita Khan and Aayush Sharma's extravagant Diwali gathering, Alizeh, the budding Bollywood newcomer, captivated attention with her impeccable fashion sense.
Clad in a sleek three-piece ensemble, she showcased her style expertise. Her attire featured a stunning jeweled shoulder cape, complementing a bedazzled corset top that beautifully defined her figure.
Embracing the contemporary trend, Alizeh gracefully sported a mermaid skirt, seamlessly blending modern flair with timeless elegance.
Dressed entirely in black, Alizeh emanated sophistication and refined simplicity. Her hair was elegantly tied in a bun, enhancing the everlasting allure of her outfit.
Adhering to the notion of understated elegance, she opted for minimal accessories and makeup, allowing her innate beauty to take the spotlight.
Beyond her fashion statement, Alizeh Agnihotri is poised to make her mark in Bollywood with her debut film, "Farrey," set for release on November 24.
Her poised demeanor and style at the Diwali festivity offer a glimpse into the fashion journey of this emerging star, hinting at the promising career that lies ahead.
Also Read: Badshah Clarifies Fans Against His Dating Rumours With Mrunal Thakur By Sharing A Post On Instagram; Says, "Jaisa aap soch rahe waisa nahi hai"
Find all the interesting and recent entertainment news across the world. Bollywoodnewsflash brings you the highlights of all the trending Hollywood News. Stay calm and updated for the latest news directly from the world of entertainment.
Follow Us: Facebook | Instagram | Twitter | Google News